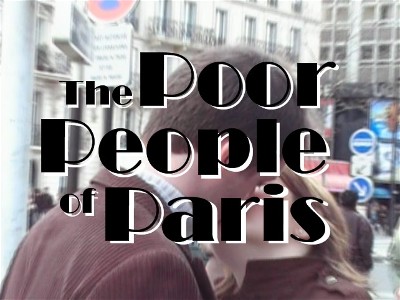 2 min. 34 sec. 4-06.
The Poor People of Paris. French singer Edith Piaf recorded "La Goualante De Pauvre Jean" in early 1954. Two years later, American bandleader Les Baldwin made it an international hit when he released an orchestral cover of the song, mistranslating the title as "The Poor People of Paris."
When we took our video camera on a trip to Paris in April, 2006, we wound up with a few extra feet of video from the streets of Paris. These clips seemed to fit the Edith Piaf song.
Parisians have a possibly unfair reputation as heavy smokers. Tex William's "Smoke Smoke Smoke that Cigarette" from 1947 was irresistible for clips suggesting that stereotype.