Biosphere 2 was to be, according to early promotions, the first phase of a 100 year project to colonize Mars. Because the red planet lacks a breathable atmosphere, water, and food sources, colonists would need provide the necessities themselves. The solution envisioned was for colonists to live sealed in a small scale replica of the Earth environment. Phase one would be the building of a prototype of the self-contained structure on the Arizona desert where it could bee seen if air, water, nutrients and soil could be so fully recycled that nothing would need to be added to the closed system providing all necessary elements for human survival. After all, Dominoes does not deliver to Mars.
The raw materials for the project were 3.15 acres of desert outside Oracle, Arizona, and 6,600 panes of glass to enclose 7.2 million cubic feet of environmental space. With the generous application of $150 million from Texas billionaire Edward P. Bass, 3,800 plant and animal species and 4 male and 4 female human volunteers--called bionauts--would be sealed under the glass to see how well they might exist in the enormous Thermos.
If the project were successful, the bionauts would emerge 2 years later, having thrived solely on the air, water, and nutrients produced by the echo system. As a bonus they would have performed valuable experiments and let the world know of their progress through the electronic media which would be their only connection to the outside world--except, of course the hoards of visitors paying $12.95 each to peer into the Biosphere.
Had the bionauts actually been on Mars, we would have been mourning their demise shortly after they entered the colony. Before the doors were even sealed, it was discovered that the atmosphere would contain too much carbon dioxide, probably because the enriched soil caused microbes to produce more of the gas than the balance of plants had anticipated. The solution was to quietly add carbon dioxide scrubbers. Later, oxygen had to be repeatedly--and quietly--added to the atmosphere.
When the bionauts did emerge 2 years later, they had lost an average of 29 pounds. They had also lost a few friends. Bionaut botanist Linda Leigh, complained that the crew, continuously short on food because of crop failures, fought about food portions. "If we ever all start talking to each other," she said, "that would be a major accomplishment."
If all experiments produced the expected results, there would be no need for experiments. Biosphere 2 has taught at least one lesson which will be invaluable to interplanetary travelers: Plan on being accompanied by cockroaches and ants.
The press had been less than kind to the project. Headlines like "Biosphere or Biostunt" and "Biosphere Blues" appeared in national publications. Wally Broecker, a geochemist at Columbia University tapped in 1991 to stem the loss of oxygen from the structure, described the original concept as flawed. Traditional agriculture would not work for space colonization. The size and weight required would prohibit its transport. Hydroponically grown crops would have the greatest chance of success.
The scientific community was similarly negative. A scientific journal returned the paper of one researcher as not worthy research because it was from Biosphere 2.
Just as Edward Bass was the project's financial angel, Columbia University, largely through the efforts of Broecker, has become its angel for scientific validity. When Space Biosphere Ventures, the original manager of the project, ran into trouble with goal and management criticism, Columbia formed a science partnership with Biosphere in 1994, and took over the facility two years later.
Bionauts are no longer sealed beneath glass. Experiments are now performed which lead to results published in real scientific journals. Real college students and real professors populate the facility. Still, one cannot help finding the whole project a little less exciting when visions of Martian colonists residing in the structure are no longer encouraged.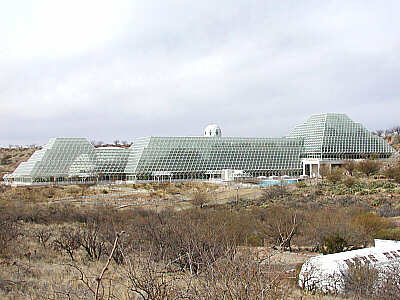 Biosphere 2 is now divided into Biomes. Visible on this side are, left to right, desert, ocean/marsh, and rainforest The tower of the former human habitat is visible behind the center portion. 2-02
__________, "In Biosphere, People Worse Than the Bugs," Newsday, 07-29-1996, pp A08.
__________, "THE WEEK HEALTH & SCIENCE: Biosphere or Biostunt? Scientists give the world's biggest terrarium a vote of no confidence." Time, 03-01-1993, pp 17.
__________, "CHRONICLES: BIOSPHERE BLUES." Time, 04-18-1994, pp 26.
__________, "`I Acted for Safety' Biospheran admits breaking into dome." Newsday, 04-06-1994, pp A21.
__________, "Biospherans Accused Of Bursting Bubble." Newsday, 04-05-1994, pp A19.
__________, "Ex-Biosphere workers get $517,500 back pay: 2 fired in '94 for breaking complex's seals." The Dallas Morning News, 06-01-1996, pp 35A.
__________, Columbia University Biosphere 2 Center -- A Living Laboratory for Earth & the Environment, Columbia University's Biosphere 2 Center, Oracle, AZ, 1997.
Fehr-Snyder, Kerry, "BIOSPHERE REVIVAL\ DESERT GREENHOUSE RISES FROM 'ECO-CULT' TO RESEARCH CENTER." The Arizona Republic, 10-11-1999, pp A1.
Kornman, Sheryl, "Biospherians Out After 2 Years." Newsday, 09-27-1993, pp 05.
Schmucker, Jane, "Ex-Biosphere members suspected in break-in." USA Today, 04-05-1994, pp 02.
---