Some street names simply cry out for an explanation. Others quietly hide their origins behind a name that seems to need no explanation. The streets below are some that have aroused my curiosity in nearly three decades of driving around the valley.
Presidential and Numbered Streets
THE PRESIDENTIAL STREETS
North to South
President
#
Term
Theodore Roosevelt
26
1901-1909
James Abram Garfield
20
1881
William McKinley
25
1897-1901
Franklin Pierce
14
1853-1857
Millard Fillmore
13
1850-1853
Zachary Taylor
12
1849-1850
James Knox Polk
11
1845-1849
Martin Van Buren
8
1837-1841
James Monroe
5
1817-1825
John Adams
2
1797-1801
George Washington
1
1789-1797
Thomas Jefferson
3
1801-1809
James Madison
4
1809-1817
Andrew Jackson
7
1829-1837
William Henry Harrison
9
1841
James Buchanan
15
1857-1861
Abraham Lincoln
16
1861-1865
Ulysses Simpson Grant
18
1869-1877
Omitted Presidents
John Quincy Adams
6
1825-1829
John Tyler
10
1841-1845
Andrew Johnson
17
1865-1869
Rutherford Birchard Hayes
19
1877-1881
Chester Alan Arthur
21
1881-1885
Grover Cleveland
22
1885-1889
Benjamin Harrison
23
1889-1893
Grover Cleveland
24
1893-1897
The early layout of Phoenix was a simple grid, destined to prove that nothing is quite as simple as it seems. The major streets running east-west were named for the U.S. Presidents, with Washington in the middle. Subsequent presidents gave their names to alternating streets first to the north, then the south in order of office. Adams became the first street to the north of Washington, Jefferson the first south, and so on. Indian names were used, more or less, for north-south streets: Cocopah, Yuma, Papago, Mojave, Cortez, Montezuma, Maricopa, Pinal, Arivipai, Tonto, Apache.
This scheme of street names began to fall apart from the beginning. Poor John Quincy Adams had to share a street with his father. Madison and Monroe were swapped from the locations that the rotation would have given them. Tyler, Johnson, Hayes, and Cleveland were forgotten completely. If Chester A. Arthur was thought of at all, he was surely an afterthought since tiny Arthur Street runs north-south between Central & 7th Street. After Roosevelt, the presidential street name idea was abandoned.
The Indian names for north-south streets faired even worse. They were dropped in favor of numbers, ascending in both directions from Central Avenue (originally Centre Street) Avenues to the west, Streets to the east.
Not all numbered avenues got their names at the same time. 27 north-south streets across the valley were "laterals" that ran a long a series of farming canals one mile apart. Until the 1940's when the county gave 27th Avenue its present name, it was called Lateral 14. (Hayden Road was Lateral 3 until that time.)
The Bethany Home Road led, not surprisingly, to the Bethany Home, way outside the city near what is now 15th Avenue. The "home" was tuberculosis sanitarium operated by a religious organization in the early 1900's. The namesake of the home is an ancient town near Jerusalem.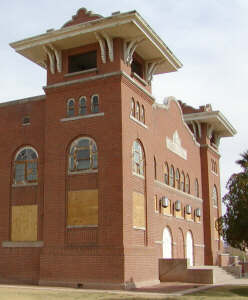 The old school site is now Steele Indian School Park, but three school buildings remain. This is Memorial Hall, built in 1922. 2-02.
Sanitariums were the mainstay for tuberculosis treatment from the mid 1800's until after 1944 when the antibiotic streptomycin was first administered to patients. The valley's warm, dry climate made the valley a prime location for sanitariums. So many tuberculosis patients stayed in white tents outside Scottsdale that it became know as the "White City."
Cactus Road is supposedly named after another TB camp where tents and shacks of suffers were situated in the early 1900's.
There really was an Indian School at Indian School Road and Central Avenue from 1891 until 1990. The boarding school for Indians was one of many across the country operated by the federal government in an attempt to mainstream them into white culture. The theory described by an early journalist was, "It is better to educate the Indian people than to kill them."
Thunderbird Road ran by Thunderbird Field Number One at a private flying school around the time of World War II.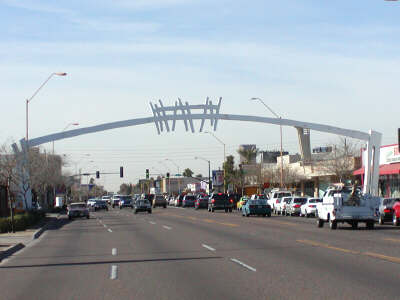 In the 1950's east McDowell Road between 16th and 20th Streets was such a burgeoning business area that it became known as "The Miracle Mile." Over the next four decades the business climate cooled as commerce moved to shopping centers. The East McDowell Civic Association sought to revitalize the area, adopting the theme, "Relive the Miracle." The strange white painted steel arch, know as the McDowell Gateway, was commissioned by the city to further this theme at a cost of $47,500. It was dedicated 1991, with the hope that it would spur development of the area. 1-02.
McDowell Road shares its name with Fort McDowell, the McDowell Mountain Range, McDowell Mountain, and McDowell Peak. The McDowell in question is Civil War General Irwin McDowell (1818-1885). A graduate of West Point, McDowell was in command of Union troops when they were routed at the Battle of Bull Run. His career survived and he was twice appointed to command of the department of the Pacific. He reportedly never visited Arizona, and is interred in the National Cemetery on the Presidio Military Reservation, San Francisco.
Greenway Road owes its name to mining magnate General John Campbell Greenway (1872-1926). An engineering graduate from Yale, and Rough Rider, he was commissioned as a brigadier general for service on the front line in France during World War I. Greenway came to Arizona in 1910 to manage Bisbee mines owned by the Calumet and Arizona Company. He negotiated the purchase of the Ajo mines, and by developed a leaching process which he patented and locating a water supply, turned the area into a profitable mining community.
In 1925 Greenway turned his attention to supplying water to Arizona by damming the Colorado River in the Grand Canyon. While attempting to obtain congressional backing, he had a gall bladder attack, and died following surgery. He was survived by Isabella S. Greenway whom he had married only two years earlier. Born in 1886, she had been a old flame of Greenway, but married one of his best friends who had also been a Rough Rider. She came west with her first husband for treatment of his tuberculosis. Two years after his death, she and the General were married.
Isabella Greenway took over management of her deceased husband's substantial business interests. A bridesmaid at the marriage of her childhood friend Eleanor to Franklin D. Roosevelt, she gave the seconding speech to his presidential nomination at the 1932 Democratic National Convention. In 1935, she became the first woman from Arizona to be elected to Congress. In Tucson, she opened both the famous Arizona Inn and a birth control clinic in spite of the Catholic Church's objections to the latter. She died in Tucson in 1953.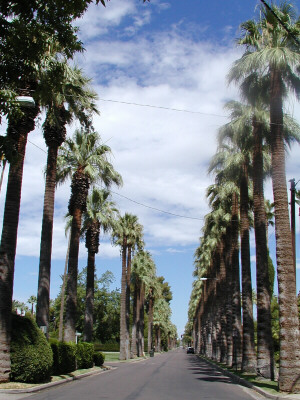 Why do you suppose they named it Palm Lane? Between 1st and 3rd Streets. 7-01
Sidney Preston Osborn (1884-1948) was the state's 11th governor--7th if you don't count repeats, or 29th if you count repeats, territorial governors, and the one who died before taking office. There may never have been another governor more suited to the office or with a greater public appeal. In his sixth grade school books, he wrote "Sidney P. Osborn, Governor of Arizona." He was the first governor to be elected to four consecutive terms, serving from 1941 through 1948. His death in office from Lou Gehrig's Disease, evoked a great outpouring of public sympathy. It would be no surprise that a sympathetic city would name a street after the popular governor.
Osborn Road was not named after Governor Osborn. At the time the street was named, Sidney was a mere teen, and although he was one of Phoenix Union High's first football stars, it is unlikely that he had yet done anything to warrant having a street named after him. The road in question ran by the south edge of the Osborn family farm, near Central, and had been homesteaded by a relative of Sidney's, John Preston Osborn, in the late 1870's. The street became know as Osborn Road around the time of John Osborn's death in 1900 at the age of 84.
Shea Boulevard and Bell Road were named after James A. Shea and Harvey Bell. Shea and Bell were two farmers getting by with well water for irrigation. They saw more potential for Paradise Valley if an old irrigation idea were resurrected.
In the 1890's the Rio Verde Canal Company promoted a canal west from the Verde River, along the base of the McDowell Mountains, and on to Union Hills which would make that area a "Paradise Valley." The company drilled a tunnel at Horseshoe Dam and dug about twenty miles of canals before the venture failed around 1901.
Fifteen years later Shea and Bell organized the Paradise Verde Irrigation District. The district took on the Salt Water Users Association in a battle over the valley's water which lasted nearly twenty years. In 1934, the Secretary of the Interior ruled in favor of the other group. Paradise Valley remained a dry vision until after World War II when developers saw uses that did not require irrigation.
Broadway Road was not named after New York's famous street, nor was it especially wide. Its name comes from Noah Broadway who owned much land in the area now known as south Phoenix.
Borrowed Names
Grand Avenue was borrowed from Fresno, California. In 1887 developers from that city were inspired to create a quick, easy route cutting diagonally from downtown Phoenix to lure settlers to the west side. Really!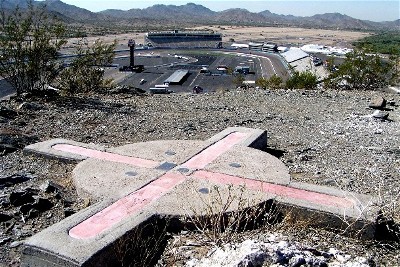 Gila and Salt River Baseline and Meridian. It might not mean much to most people, but the Gila and Salt River Baseline and Meridian is the point from which all property locations are measured in southern Arizona. Phoenix International Raceway sits just west of the hill where the monument is located. 10-03.
Practical Names
The original main survey line of the valley started from a point atop a small butte east of what is now the Phoenix International Raceway. The rest of the valley was measured from a line extending east and west of that point, called "the Salt River and Gila Baseline and Meridian." Fortunately for sign makers, the name adopted for the road following that line was shortened to Baseline Road.