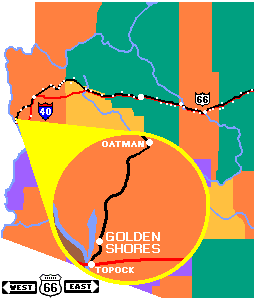 Clickable map. The original 1926 alignment of Route 66 just happens to pass by Golden Shores.
Not a Route 66 community. Golden Shores owes its development, such as it is, more to the proximity of the Colorado River than to Route 66. The closest thing to a community web site describes it as a place "where people who love the outdoors can enjoy such sports as fishing, hunting, boating, off-roading and birdwatching."
The community of less than 3,000 residents has its own weekly newspaper, the Golden Shores eXtra; a general store; a dollar store; auto, appliance and home repair services; a realtor; a dog groomer; and a massage therapist. Children can attend grades K through 8 at Topock Elementary, but must be bussed to River Valley High in Mohave Valley for secondary schooling. The Golden Shores Fire District with a few paid staff members and many volunteers handles fire and medical emergencies, but the nearest medical centers are in Needles and Bullhead City.
What's this about Broasted Chicken? One Golden Shores enterprise that hasn't made it into the new millennium is the Chuckwagon Restaurant. An oversized rooster hawking Broasted chicken sits atop the abandoned building suggesting that it would have been an entirely appropriate enterprise along Route 66. Alas, the same year that the Broaster was perfected, Route 66 was rerouted south of the Black Mountains diverting traffic to the same path that Interstate 40 now follows.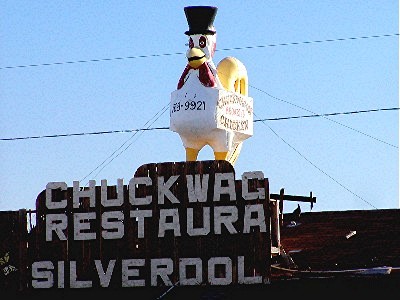 When the Chuckwagon Restaurant was still open, it featured Broasted® chicken. 6-02.
Although one can find recipes for Broasted chicken, one cannot cook the real thing without the commercial oven that The Broaster Company sells. According to the company, Broasted chicken is marinated and coated with their proprietary ingredients. It is then placed inside their pressure fryer. This pressure cooker is said to cook the chicken "in the chicken's own natural juices, limiting the absorption of cooking oil and driving the marinade deep down to the bone while searing the chicken with a golden, crispy-crunchy coating."
Broasted® is a registered trademark of The Broaster Company, Beloit, Wisconsin, as is Broaster®. It is the name give to chicken cooked in the company's Broaster® pressure cooker. The cooker was perfected in 1952, by inventor L.A.M. Phelan who also came up with the first automatic gasoline pump, the first automatic toilet, and the first automatic commercial refrigerator. The Broaster has been marketed across the nation since 1954.