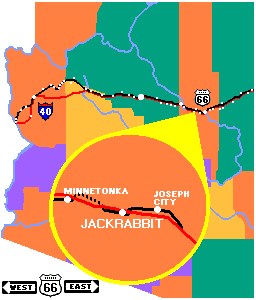 Clickable Map. The Jackrabbit Trading Post is at Exit 269 on Interstate 40. The Arizona Department of Transportation reported the average traffic passing that exit to be 18,248 vehicles per day in 2003.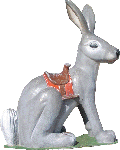 If you're going to get a pair of briefs or boxers bearing a reproduction of the famous red and yellow "HERE IT IS" sign, you have to get off Interstate 40 at Exit 269 and visit the Jackrabbit Trading Post. Before you even make it into the trading post to plunk down your money for your shorts, you will find the giant jackrabbit at the west end of the store irresistible. It's almost guaranteed that you or one of your passengers will hop on the jackrabbit's saddle to pose for a picture.
The Jackrabbit Trading Post has been a fixture on Route 66 since 1949. That was when Texan James Taylor took over an old Santa Fe Railroad building and erected numerous billboards along the then heavily traveled Route 66 enticing motorists to visit his trading post. For two decades Taylor operated the post until he leased it to Glen Blansett in 1961. Blansett purchased the post in 1967 and passed it on to his son and daughter-in-law who eventually sold it to their daughter and son-in-law, Cynthia and Antonio Jaquez.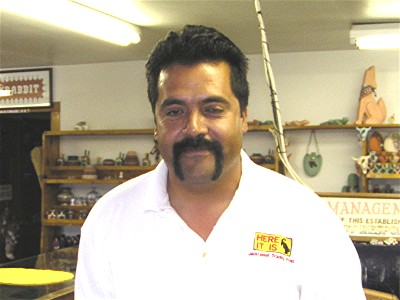 Antonio Jaquez has been proprietor of the Jackrabbit Trading Post since the 1995. 6-04.
Blansett's interest in the Jackrabbit Trading Post was fortuitous. When construction of Interstate 40 along the path of Route 66 was bypassing many Arizona attractions during the 1970's, the Jackrabbit Trading Post ended up with its own exit. The Jackrabbit's web site credits Senator Blansett's influence in obtaining that off ramp.