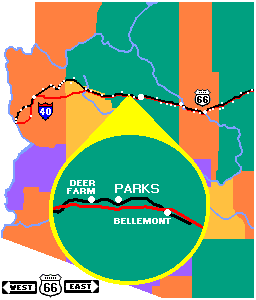 Clickable Map. Parks is on the North side of a remaining segment of Route 66. The junction at Parks used to be the main road to the Grand Canyon.
Access to the Grand Canyon. In March 1921 Coconino County began construction on an unpaved road from the Old Trails Highway to the Grand Canyon. The new road would intersect with the highway at a point midway between Williams and Flagstaff. Construction was finished in June.
Art Anderson and Don McMillan saw the need for a general store and gas station to supply the needs of the travelers. In November 1921 they opened for business at the intersection of what would later become Route 66 and the Spring Valley Road.
Carrying on the tradition. In May 2000, Ron and Millie Gillpatrick purchased the Parks in the Pines General Store. Ron had been a manager at an auto dealership in San Diego before they moved to Arizona around 1993.
If you drop into the general store, Millie will whip up a delicious snack from the deli--she supplied your author with an excellent grilled cheese sandwich with jalapeños added. Ron mans the register and can take care of essentials from groceries, propane and gas to beer and wine.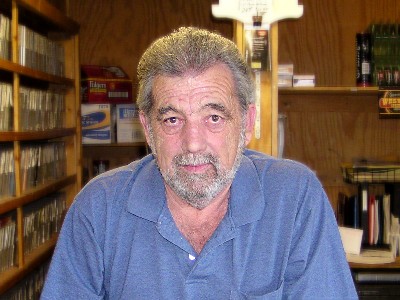 Ron Gillpatrick is the proprietor of the Parks in the Pines General Store. 3-04.