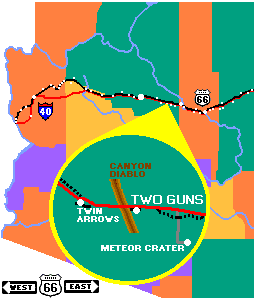 Clickable Map. Two Guns.
The 1946 first edition of Jack Dl Rittenhouse's A Guide Book to Highway 66 has this entry on page 99:
TWO GUNS. One establishment offering gas, lunchroom, and curios. At the rear of the building is a small zoo exhibiting western animals. In previous years, US 66 ran behind this building, and some old Apache Caves in a canyon there were great showpoints. They can still be visited if you care to walk a few hundred yards back.