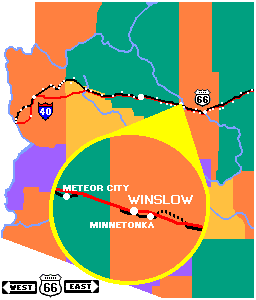 Clickable Map. Winslow.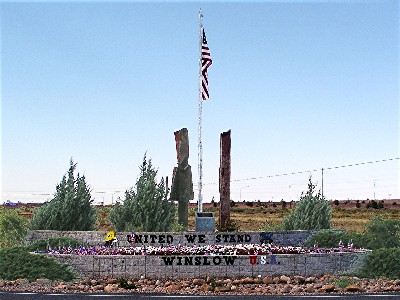 The "Remembrance Garden" plaque in front of the flagpole reads, "These two steel beams from the World Trade Center entrusted to the citizens of Winslow by the City of New York, along with this flag that was flown at the Pentagon; stand as the centerpiece of our Remembrance Garden. The words 'United We Stand' remind the world that we will not fear terrorism. We hereby dedicate this Garden to Northern Arizona's promise that 'WE WILL NEVER FORGET.'" 9-03.
9-11 Remembrance Garden. Motorists taking Interstate 40's Exit 257 south to travel along a section Route 66 east of Winslow will pass our nomination for the most oddly placed memorial to the September 11, 2001 terrorist attack. The Remembrance Garden, as civic leaders called it, came into being in just 8 days after a simple inquiry from a Phoenix television station. The station called the city asking what the community would be doing to observe the one-year anniversary of 9-11.
Winslow businessman Bill Herron proposed that the city make use of an abandoned planter on Route 66 and Transcon Lane. They formed a committee, drew up plans, contacted the station and waited. And waited. And waited.
9-03.
The television camera crew never showed up. Undaunted the committee went forward. Herron contacted New York, sending them a sketch of the project. To get two 10 foot girders from the World Trade Center, the committee had only to sign a contract agreeing never to use the beams for profit--and pick them up.
One of Winslow's major enterprises is a Wal-Mart store. During a visit to the store, the thought crossed Herron's mind that the fine folks at Wal-Mart might help. He called corporate headquarters in Bentonville, Arkansas. The next morning two Wal-Mart drivers started a 5,200 mile trek to pick up the beams from New York and deliver them to Winslow.
The drivers arrived in Winslow on September 6, 2002 where they became the center point of an impromptu parade through downtown Winslow. When they arrived on site everything was ready. The citizens had cleaned up the weeds, installed a sprinkler system, and erected a flag pole. In short order, the beams were in place as work was completed on the memorial just in time for its dedication ceremony at 5:00 pm on September 11, 2002.