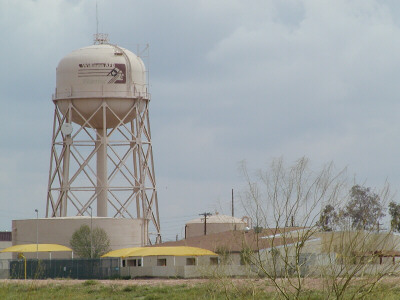 The water tower at Williams Gateway retains the Air Force Base's "Warrior" logo. 3-01
Construction on a desert facility to train pilots for looming World War II was started on July 16, 1941.1 It was alternately known as Higley Field, Mesa Air Base and Mesa Military Airport before being officially named Williams Field on Feb. 24, 1942.
The field was named in honor of First Lieutenant Charles Linton Williams, an Arizona-born pilot in the Army Air Corps who was trained as an aerial photographer. He died on July 6, 1927, at Oahu, Hawaii, when his aircraft stalled and fell into the sea.
Williams Air Force Base, as it was named in January 1948, graduated more student pilots and instructors than any other base in the country, supplying 25 percent of the Air Force's pilots. Over its 52 years as a military air facility, it trained more than 26,500 pilots.
The Air Force closed Williams in 1993. In 1994 under the cooperation of the state and the jurisdictions surrounding the base (Mesa, Gilbert, Queen Creek and the Gila River Indian Community), the base was reopened as a civilian facility and renamed Williams Gateway Airport. Besides being the site for Arizona State University's East campus, 20 aviation companies have facilities at the new Williams including Boeing's helicopter, avionics and structural repair divisions.
---
1. Construction started the same date on Mesa's airport, Falcon Field, which was built to train Royal Air Force pilots.

---
Sources:
Base History, accessed 3-01.
"History",Official Williams Gateway Airport Webpage, Williams Gateway Airport, 1999.
Arizona State University East.
---
This page was last revised on 07/13/04.