As the transcontinental railroad brought an influx of population to Salt Lake area, Mormon leaders sent a party to settle in the Salt River Valley. The first group of Mormons established Lehi, in 1877.
The next year, a second group of 85 Mormon settlers, some polygamous, established a one mile square town site bounded by present day streets of University, Country Club, Broadway and Mesa Drive. Work immediately began clearing the canals built by the Hohokam Indians a thousand years before.
Though settlers sought to use the name Mesa, the post office named the new community "Hayden" because mail came through Hayden's Ferry, and the name "Mesa" was already taken by the Mesaville post office in Pinal County. When the Mesaville post office closed, and the name became available and the Mesa post office was established in 1889.
Lehi found itself in an area prone to flooding, with fewer available canals and less arable land than Mesa. Settlement in Mesa far outpaced Lehi, and in 1970, it became a part of Mesa.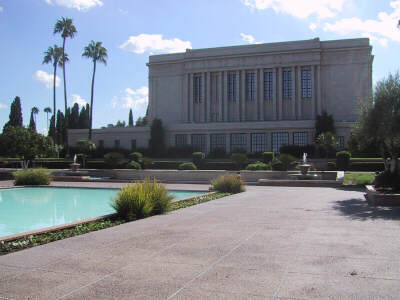 The Mormon Temple, Mesa. 11-00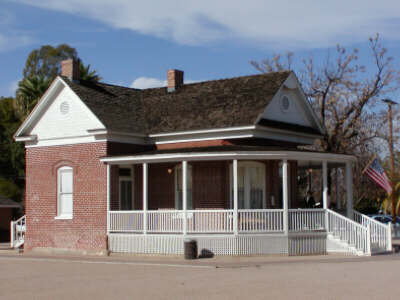 The Sirrine house at 160 N. Center is Queen Anne style home acquired by the city in 1980. Room additions, screened in porches, and out buildings were removed to restore it to the 3 room structure that Joel E. Sirrine built in 1896. The home is open to the public on weekends, October through March, so visitors can walk through the three room--living room, kitchen, and bedroom--where Mr. Sirrine lived with his wife and two daughters. 1-02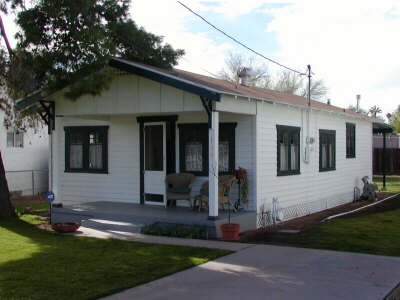 The Marlin McLaws house at 120 N. Hibbert Street was one of 38 built by physician and surgeon, Dr. Ralph F. Palmer, shortly after he came to Mesa in 1906. The small homes, all with similar floor plans, were intended to provide housing for volunteers at the nearby Mormon Temple. Not surprisingly, the area was known as Temple Court. The homes were made from kitsHH1 shipped by rail, which provided all parts numbered for assembly at the site. This, the only remaining original home in Temple Court, is being restored by its present owner, Paul Chaisson. 1-02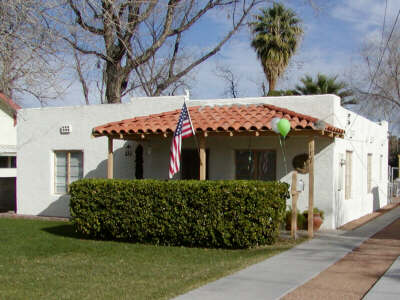 The Lenoir house, 117 N. Wilbur Street, is a two bedroom Neo-Pueblo home constructed of adobe in 1935. According to homeowner Chris Miller, she and her husband Brad Schell will have invested nearly $40,000 in the property by the time it is finished. At the time of the January 2002 Historic Home Tour, they had owned the home for five years, and restoration appears nearly complete. 1-02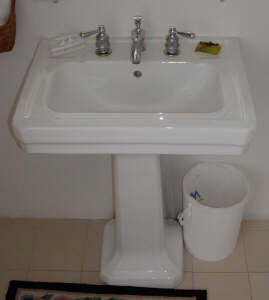 The single bathroom features a pedestal sink of the era. 1-02
1. American FactFinder, U.S. Census Bureau.

---
Footnotes and Sources for Mesa History:
Sarah Zafra, "A Brief History of Mesa, Arizona," Mesa Historical Museum, February, 2000.
Barnes, Will C., Arizona Place Names, The University of Arizona Press, Tucson, 1997, pp. 271-272.
Trimble, Marshall, Roadside History of Arizona, Mountain Press Publishing Company, Missoula, 1986, pp. 194-195.
---
Sources for Street Names:
Mesa Historical Museum, 2345 N. Horne Street, Mesa, Arizona 85201.
---
Footnotes and Sources for Historic Homes:
HH1. In 1906, Aladdin Homes of Bay City, Michigan began selling all construction materials needed to build a home in the form of a kit. Two years later, Sears Roebuck entered the field and became the largest purveyor of kit homes. Sears continued to sell the kits until 1940, selling over 100,000 homes during the kit home era. _______, "Topic of the Month, September, 2001 - Kit Houses," National Trust for Historic Preservation Library, University of Maryland Libraries, September, 2001.


Janie Magruder, "Mesa tour highlights historic homes," The Arizona Republic, January 17, 2002, p. E1
_______, 2nd Annual Mesa Historical Home Tour, Mesa Historical Museum Guild, Mesa Historical Society, January 19, 2002.