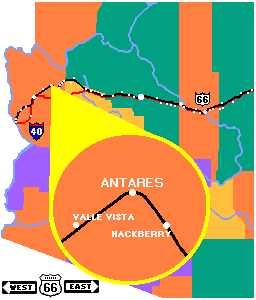 Clickable Map. Antares is on the section of Route 66 between Kingman and Seligman which I-40 bypassed in 1978.
Antares--not the star. An astronomer would tell you that Antares is the brightest star in the Scorpio constellation--a giant red double star. On Route 66, its not much more than a bend in the road.
The Antares curve. About 15 miles east of the Kingman airport, Route 66 makes gently curving a 90° turn. On each side of the curve, 66 heads to its next destination as straight as the crow flies, Kingman to the west and Hackberry to the east. At the arc of the curve, Route 66 intersects with Antares Road which will take you to the western edge of the Grand Canyon, much of which is under Lake Mead at that point.
"Giganticus Headicus." Just when you think all possible manner of kitsch along Route 66 has long since been built, you find that someone like 36 year old artist Greg Arnold has constructed a totally new oddity along the venerable old route.
A 14' high giant green head now peers at passing motorists from beside of what once was the cafe at the Ranchero Motel. Although its appearance suggests otherwise, some supernatural force has not plucked one of the Moai heads carved out of stone from the Easter Islands and deposited it at the Antares curve. Greg fashioned the giant head from wood and stucco. As an offering to the tourist god, he included a bench for the weary traveler who can make his offering of change to the nearby vending machine.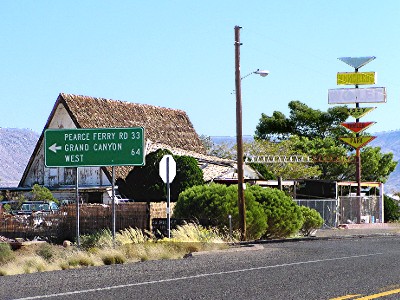 The Ranchero Motel's doors are no longer open to Route 66 travelers at the Antares curve. 10-03.