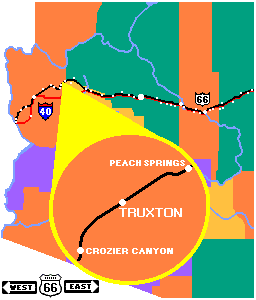 Clickable Map. Truxton is on the section of Route 66 between Kingman and Seligman which I-40 bypassed in 1978.
The Frontier Motel. The most evident business in Truxton is the nine room Frontier Motel and its Restaurant. The motel was built in 1951 to cater to the booming Route 66 traffic. It's owner, Mildred Barker, has worked in the restaurant since 1955. She also owned the bar across the street, making her the presiding baron of Truxton controlling virtually all of the settlement's businesses. In 2000, she put the motel, restaurant, and the bar up for sale together. As of 2003, a new owner was not in evidence.
A half century after the motel was built, its classic neon sign sign was in very sad shape. The Historic Route 66 Association of Arizona came to its rescue and restored the sign using a matching grant of $9,268 from The Route 66 Corridor Preservation Program.
Named for the son of the Beale Wagon Road's architect. In 1857 Lieutenant Edward Fitzgerald Beale was assigned the task of establishing a wagon route along the 35th parallel across New Mexico and Arizona. He followed the path mapped out by Lt. Amiel Whipple in 1853 for potential railroad routes across the newly acquired western territories. West of Flagstaff, Beale diverted a bit north from Whipple's route and went through Peach Springs and a area he named for his son, Truxton. Although nearby Valentine had the used the name briefly, the present day Truxton was not established until 1951.
| | |
| --- | --- |
| | |
| Carved wood signs on each side of Truxton greet travelers. Unfortunately the carved letters are practically invisible from the road suggesting that paint might have made the sign readable in its distant past. A Beale Wagon Road plaque hints at the origin of the settlement's name. 10-03. | If you have lost your way Cowgill's Route 66 directory will set you straight. 10-03. |