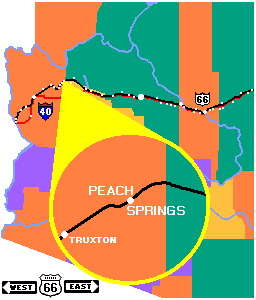 Clickable Map. Peach Springs is on the section of Route 66 between Kingman and Seligman which I-40 bypassed in 1978.
"Shortly after the caverns, you'll enter the Hualapai Reservation and Peach Springs. The town is the starting point for Diamond Creek Road, which takes you right down to the shore of the Colorado River in the Grand Canyon. The tribe offers river trips and also operates the Hualapai Lodge and Diamond Creek Restaurant in Peach Springs."
Hualapai Lodge, 900 Route 66, Peach Springs, 1-888-255-9550 or www.hualapaitours.com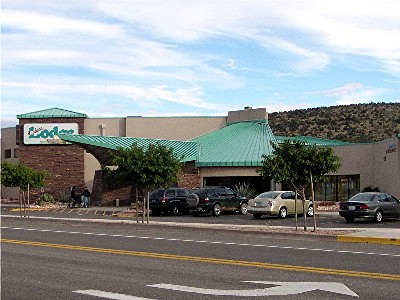 The Hualapai Tribe has opened a modern hotel in Peach Springs from which tours are launched into the section the Grand Canyon adjoining their reservation. 10-03.