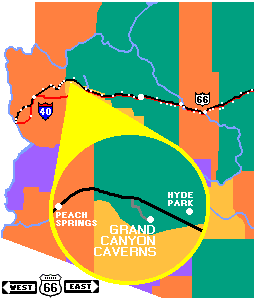 Clickable Map. The Grand Canyon Caverns is on the section of Route 66 between Kingman and Seligman which I-40 bypassed in 1978.
Inexplicably, a giant tyrannosaurus rex guards the entrance to the Grand Canyon Caverns.
"Grand Canyon Caverns, another surviving attraction east of Peach Springs, has a new owner, John McEnulty of Long Beach, Calif., who plans to spend close to $1 million refurbishing the 48-room motel and adding a recreational-vehicle park." AzRep 7-7-02.
Grand Canyon Caverns, 1-(928)-422-3223 or www.gccaverns.com.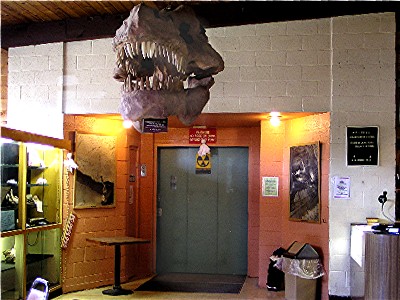 The Hualapai Tribe has opened a modern hotel in Peach Springs from which tours are launched into the section the Grand Canyon adjoining their reservation. 10-03.