Hyde Park Location: On the top of the hill at Milepost 117 on the north side of the section of Route 66 between Seligman and Kingman which was bypassed by Interstate 10.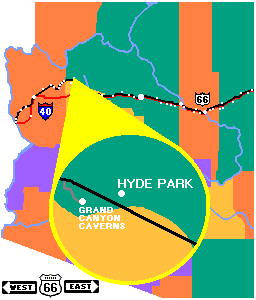 Clickable Map. The remains of Hyde Park are on the section of Route 66 between Kingman and Seligman which I-40 bypassed in 1978.
In his 1946 edition of A Guide Book to Highway 66, Jack D. Rittenhouse lists the facilities at Hyde Park as including a cafe, gas station and cabins. The owners of Hyde Park advertised their facilities to approaching motorists with small signs mounted on top of fence posts with the slogan, "Park your hide at Hyde Park." What tired tourist could resist that enticement?
Although there was a time when Hyde Park was a substantial operation along the old road, the only evidence of the facility left in 2003 was the foundation of some of the buildings and a debris filled pool.