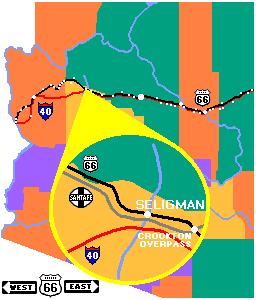 Clickable Map. The Grand Canyon Caverns is on the section of Route 66 between Kingman and Seligman which I-40 bypassed in 1978.
Get your kitsch on Route 66. No spot along Arizona's Route 66 has more kitsch per inch than Seligman. The Delgadillo brothers, Angel and Juan, are the leading purveyors if not the originators of Seligman kitsch.
Outhouse to ice cream. In the early 1950's Juan noticed that an outhouse on his property was receiving a lot of use from train workers changing shifts and customers of the Ford dealership across Route 66. He figured that his popular corner lot might be a good spot for refreshment of another kind--an ice cream shop.

Juan had blueprints drawn up for a Dairy Queen. When talks with Dairy Queen broke down, he got a franchise with Snow Cap which had shops throughout Arizona at the time. In 1953, Juan built his ice cream shop from scrap lumber. Jaun began dispensing malts, shakes, creamy root beer and a bit of humor.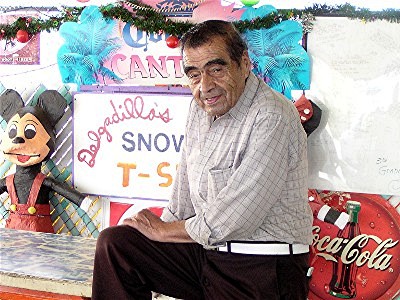 Juan Delgadillo presided over the Snow Cap drive-in since 1953 until his death on June 2, 2004. 10-03.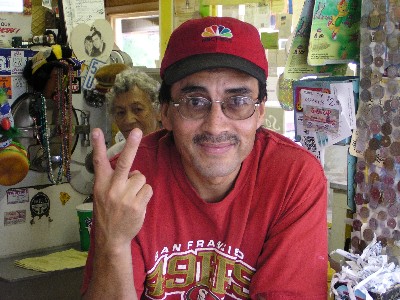 John Delgadillo, Juan's son, carries on the family tradition at Snow Cap. 10-03.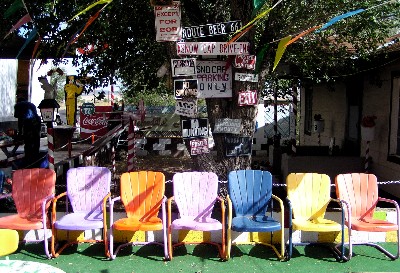 Colorful vintage metal lawn chairs await the arrival of the bus tous. 10-03.
Used napkins and a straw. Half a century later, travelers can still get their malt at the Snow Cap window. When they pick up their order, they'll be offered slightly used napkins, and a straw--not a sipping straw, but one from a tiny bale of the farm product.
A lot has changed since 1953. Back then Route 66 was a major thoroughfare, packed with cars, trucks, semi's and trailers. Traffic was so thick that it might take ten minutes for a break in traffic long enough to dash across the four lane road that cuts through Seligman.
Eisenhower's Interstate system. While Juan was hammering the final construction nail in the Snow Cap drive-in, Dwight D. Eisenhower was settling into his first term in the U.S. Presidency. As the Supreme Commander of allied forces during World War II, Ike had been mightily impressed with how quickly the German military, and later, the allies, could move across the German countryside using the autobahns. Eisenhower was convinced that a modern, multi-lane highway system was essential to a strong national defense. On June 29, 1956, he signed The Federal-Aid Highway Act of 1956 into law creating the Interstate road system.
It took better than two decades for the Interstate system to reach Yavapai county, but at 2:00 PM on Friday, September 22, 1978, the newly constructed Interstate 40 outside Seligman was opened to traffic. The 4 lane road through Seligman was suddenly empty. Businesses all along old Route 66 began to wither and die.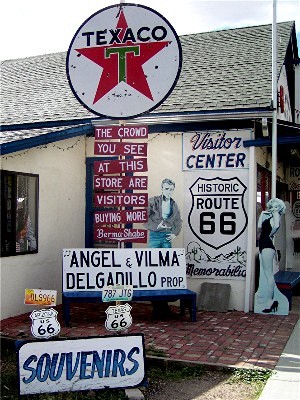 Angel and Vilma Delgadillo operate the venerable Route 66 Visitor Center surrounding Angel's barber shop. 10-03.
Guardian Angel. Like his brother Juan, Angel Delgadillo had grown up on Route 66. After graduating from Seligman High School in 1947, Angel traveled west on Route 66 to Pasadena where he attended American Pacific Barber College in Pasadena, California. Before returning to Seligman to practice the trade he shared with his father, he apprenticed at Williams, a bit eastward on Route 66. In 1950, he returned Seligman where he cut hair for the better part of half a century.
While Seligman town leaders scrambled to find industry to replace the travelers, Angel had a different idea. Although Route 66 had died as a cross country thoroughfare, he saw it as a living piece of history. He also saw the possibility of attracting droves of Tourists to the historic route.
Angel met with businessmen and civic leaders along Arizona's Route 66. In February, 1987 they formed the Historic Route 66 Association of Arizona, a non-profit corporation, to promote and preserve the old highway. The same year, they lobbied the Arizona Legislature to designate Route 66 in Arizona as an historic highway. The seven other states along Route 66 (Illinois, Missouri, Kansas, Oklahoma, Texas, New Mexico, and California) followed Angel's lead and formed their own historic highway associations. The association makes it home in to the west on Route 66 in Kingman.
Angel has retired from cutting hair, but you can still visit his barbershop in the corner of the Route 66 Visitor Center, less than a block west of the Snow Cap. You can also pick up Route 66 memorabilia of all manner in the gift shop.