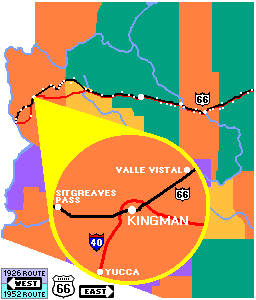 Clickable Map. The paths of Route 66 and Interstate 40 meet at Kingman. To the east, Route 66 aligns with the Santa Fe railroad. To the west, the 1926 alignment head to the Sitgreaves Pass through the Black Mountains. The 1952 alignment and Interstate 40 follow the Santa Fe tracks heading south of the Black Mountains and to Yucca.
Home of the Historic Route 66 Association of Arizona. The association that Seligman barber and businessman Angel Delgadillo helped form in 1987 to rescue the Mother Road from oblivion makes

its home in a converted powerhouse in Kingman. The old concrete and stone structure is also home to a 1950's diner, a visitor's center and a Route 66 gift shop on the first floor and stone structure. The entrance to The Route 66 Museum is located on the second floor. There visitors can travel back in time to the trails that became the Beale Wagon Road and witness its evolution into Route 66. Among the many artifacts displayed are the vehicles of the various periods of the road, from the pioneers' covered wagon and the depression era Model T, to a 1950's Studebaker complete with window mounted evaporative cooler.
Survival through obsolescence. Kingman is the perfect location for a Route 66 Museum since it is in the middle of the nation's longest continuous stretch of Route 66. It has remained untouched because unlike most other sections where the Interstate closely follows the path of the old road, engineers selected improved routes both east and west of Kingman.
The route west of Kingman was in dispute even as the original alignment was being selected in the 1920's. A group from Oatman argued that the route should cut across the Black Mountains and go through Oatman on its way to the Colorado River and California. A competing group supported an alignment paralleling the railroad which travels south bypassing the mountains. The bypass would, not surprisingly, run through Yucca where its supporters lived.
When the selection was made, Oatman was at its peak as mining community, and its view prevailed. That alignment did not last for the duration of Route 66. In 1952 when Oatman's economic power had long since ebbed, the Yucca bypass was opened. When Interstate 40 was built, it followed the Yucca bypass.
The route east of Kingman did follow the railroad alignment. But when Interstate 40 opened in 1978, it followed a much more direct route from Seligman instead of arcing north through Hackberry, Valentine, Crozier, Truxton, and Peach Springs.