In Apache Pass, Arizona, performed the earliest action leading to the award of the Congressional Medal of Honor
(1830.06.24-after 1894 [retirement year] ) Congressional Medal of Honor recipient.

Bernard J. D. Irwin, recipient of the Congressional Medal of Honor, 1894.
In December, 1861, Congress passed a bill authorizing the production and distribution of medals honoring the gallant actions of Naval personnel during the Civil War. A second bill authorizing medals for Army personnel was passed two months later. President Lincoln signed both bills into law and the Congressional Medal of Honor was born.
When the authorizing bill was passed, Bernard J.D. Irwin was an Assistant Surgeon in the United States Army. He was stationed in the western territory which is now Arizona. The actions he took at Apache Pass (about 26 miles east of Wilcox) on February 13 and 14, 1861, would become the earliest to lead to the awarding of a Congressional Medal of Honor.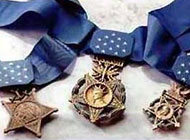 The citation for the medal reads that Irwin "Voluntarily took command of troops and attacked and defeated hostile Indians he met on the way. Surgeon Irwin volunteered to go to the rescue of 2d Lt. George N. Bascom, 7th Infantry, who with 60 men was trapped by Chiricahua Apaches under Cochise. Irwin and 14 men, not having horses began the 100-mile march riding mules. After fighting and capturing Indians, recovering stolen horses and cattle, he reached Bascom's column and help break his siege."
Over 30 years later, on January 24,1894, when Colonel Irwin was leaving the service, his act of heroism was finally recognized with the awarding of the Congressional Medal of Honor.