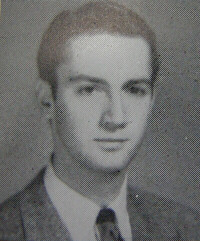 Steve Allen's senior class photo as it appeared in the 1941 Phoenician, yearbook of Phoenix Union High School. 9-02
Allen, Steve
(Stephen Valentine Patrick William Allen, 1921.12.26-2000.10.30) Author, composer, host, musician, poet, playwright, performer.

Lived in Phoenix

Graduate of Phoenix Union High; Attended ASU

On-air personality on KOY Phoenix
Born on the day after Christmas in New York City, Steve Allen came to Arizona when he transferred to Phoenix Union High School from Hyde Park in Chicago. In spite of a late start he still received credit in the yearbook for the Annual Staff, Journal Staff, Mor Follies, Entertainment Committee, and Scribble and Blot. His trademark glasses are missing from his senior picture.
In 1941 Steve Allen received a journalism scholarship from Drake University of Des Moines. He attended Drake only during his freshman year, transferring to attended Arizona State University Tempe in 1942 when it was the State Teacher's College. He took an on-air job on a local radio station to help pay his tuition during his sophomore year. There he also met and fell in love with another student, Dorothy Goodman. In a matter of months his parent's vaudeville blood got the better of him, and he dropped out to work as a disc jockey at KOY radio in Phoenix.
"The Name's the Same"
In December 1951 the ABC television network began airing an odd little creation of game show producers Mark Goodson and Bill Todman. While black and white television's premier panel show, "What's My Line?", would have four blindfolded panelists discern the identity of a celebrity mystery guest through a series of yes or no questions, ABC's discount version had three panelists guess a contestant's name which happened to be the same (verified by birth certificate or driver's license) as some celebrity.
Around the midpoint in the show's almost five year run, host Robert Q. Lewis introduced a ten year old contestant to a panel composed of Meredith Wilson, Joan Alexander, and Carl Reiner. After the boy revealed his residence as Phoenix, Arizona, questioning proceeded. Eventually Carl Reiner succeeded in identifying the lad as having the same name as "the noted young humorist" Steve Allen.
Robert Q. then asked the boy if he had ever met the celebrity Steve Allen. It was a common feature of the show to have one of the celebrities whose name had been used waiting in the wings to meet the contestant whose name he shared. This time the boy had indeed met Steve Allen, because as he explained, "he's my dad." Graciously, Steve Allen, Sr., emerged from the wings and greeted Steve Allen, Jr.
At the time of the Steve Allens' appearance on "The Name's the Same," Steve Sr. was no longer married to Steve Jr.'s mother, Dorothy. The marriage did not survive past 1952. From the ABC's game show, we know that the young Steve Allen returned to Phoenix, and from his appearances as panelist on "What's My Line?" and series of other shows, we know that the senior Steve Allen stayed on in New York.
With the outbreak of World War II, Steve enlisted in the U.S. Army. He was sent to Camp Roberts in California where 436,000 Infantry and Field Artillery troops were to receive an intensive seventeen week training cycle during the war. Steve did not complete the cycle because of frequent asthma attacks. He was given an early release from the Army.
Steve returned to Phoenix where he and Dorothy were married. He continued his radio career at KOY. Steve became a popular local radio personality offering listeners a mix of comedy, music, and banter. By 1945 the writer, producer, music director and host of a successful program had outgrown the small Phoenix radio market. He packed up his family which then included Steve Allen, Jr., as well as an expectant Mrs. Allen, and headed for Los Angeles.
In Los Angeles Steve would embarked on a national radio career with the Mutual Broadcasting Company. In 1950, the Steve Allens headed for New York as CBS offered the young comic a shot at the new medium of television. Eleven years after he left Phoenix, Steve would create and host the Tonight Show on NBC.