Anderson, Pamela (Pamela Denise Anderson, 1967.07.01- ) Actor.

Almost arrested on Route 66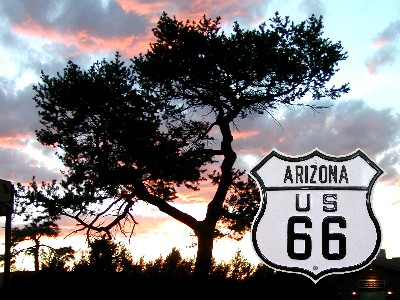 The silhouetted tree shares the sunset with Route 66, but is located on the southern rim of the Grand Canyon. The superimposed Route 66 sign is an authentic reproduction of the signs that used to identify the highway in Arizona. 11-02.
Born on Vancouver Island, Canada, Pamela gained media attention while attending a British Columbia Lions football game. Cameramen spotted her taut Labatt's Beer T-shirt in the stands and broadcast her image on the stadium's wide screen. Fans cheered, and she was taken to the 50-yard line to be introduced to the crowd. Labatt's signed her to a commercial contract as the company's "Blue Zone" girl.

Playboy Magazine must have been looking for the same attributes as Lebatt's, since it had Pamela on its cover a record ten times.1 Pamela parlayed the attention on her physical assets into a recurring role for two seasons as the Tool Time Girl on Home Improvement (1991-1999), and as C. J. Parker on the amazingly popular internationally distributed television series Baywatch (1989-2001).
While on a photo shoot along Route 66 for a 1992 issue of Playboy Magazine, Pamela was read her rights and taken to the police station on charges of indecent exposure. Pamela says that she was not indecently dressed, since she was wearing a sheer dress and only one nipple was sticking out. As penance for her indiscretion and to avoid real charges, she wrote a letter of apology to the Baptist minister who was living adjacent to the shoot location.
In 1995, she married the multi-tattooed Motley Crue drummer Tommy Lee with whom she had two children. In 1997, a videotape which they made of themselves having sex became a best-selling adult home video.
The couple was divorced 1998 following Tommy's arrest for assaulting Pamela. While serving a six month sentence in California on those charges, he was allowed to serve a 30 day sentence concurrently for an assault at a Phoenix concert on a security guard who tried to keep fans from rushing the stage at the band's urging.
In June of 1999 the couple reconciled, but by April of the next year they had gone their separate ways again.
---
Pamela appeared on the cover of the Playboy editions for October 1989, February 1991, July 1992, August 1993 (with Dan Aykroyd), November 1994, January 1996, September 1997 (one of two covers), June 1998 (Babes of Baywatch), February 1999, and July 2001. She was the centerfold in the February 1990 issue.