Autry, Gene
(Orvon Gene Autry, 1907.09.29-1998.10.02) Singing movie cowboy.

Owned ranches in Florence and Winslow, and TV stations KOOL in Phoenix and KOLD in Tucson
Gene Autry was the nation's most popular movie cowboy in the 1930's. In 1942, against the opposition of his studio and facing the loss of a civilian income in the range of $600,000 a year, the 35 year old Autry enlisted in the U.S. Army Air Corps. He was assigned to Special Service at Luke Field, west of Phoenix.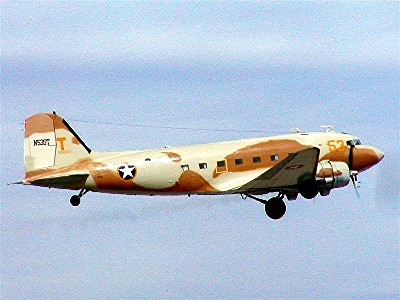 Gene Autry might have flown a plane like this World War II vintage air transport at the Luke AFB Air Show in 2002. 3-02.
---
The Air Transport Command. The Army Air Corps created the Ferrying Command on May 29, 1941 to fly aircraft from U.S. factories to Atlantic and Canadian ports for delivery to Great Britain. The Ferrying Command became the Air Transport Command (ATC) on June 20, 1942, and its duties were greatly expanded. Besides ferrying aircraft, it was assigned the responsibility of transporting personnel, materiel and mail, and maintaining air route facilities outside the U.S. By the end of 1944, it had more than 3,000 transport craft and was flying to all over the world where there were U.S. troops. The ATC called reservist pilots to active duty, and commissioned hundreds of civilians as officers. The physical qualifications the "service pilots" of the ATC were lower than those required for combat pilots.

Gene's "Melody Ranch" radio program often originated from Luke during his duty at Luke. He went to the training facility of General George Patton's Eighth Army to entertain the troops in the Arizona Desert.
Gene had piloted a small plane before the war. While he was in Phoenix, he paid for private lessons to qualify to fly larger aircraft. When he left Luke as a "Flying Sergeant" in the Air Transport Command, he flew in Africa and in the China-Burma-India Theater. It was reported that Gene was the only U.S. serviceman allowed to wear cowboy boots on duty.
While Gene was stationed at Luke, he met Tom Chauncy, who owned a jewelry store in the Adams Hotel in Phoenix. Seeing a future for media in Phoenix, Gene and Tom formed a partnership and purchased KOOL radio, which had carried the "Melody Ranch" program in the Phoenix market.
In 1942, Gene traveled to Florence to make a proposal to William Clemans to become the family's partner in the World Championship Rodeo. His proposal was accepted, and the friendship with the family blossomed. Soon the partners were in the cattle business too, with ranches near Florence and Winslow.
Upon returning from military service after World War II, he was released from his Republic Pictures contract. He formed his own production company which partnered with Columbia Pictures. Of the 36 pictures he made after the war through 1953, he returned to Arizona to make at least two: The Last Roundup (1947) was filmed at Old Tucson, and The Strawberry Roan (1948) was filmed near Sedona.
In the early 50's a new medium was challenging the singing cowboy movies. Undeterred, Gene moved on to television with The Gene Autry Show (1950-1956).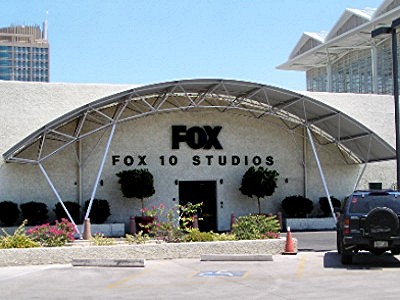 Channel 10 is now owned by FOX. Behind the studio's west entrance, the new Phoenix city hall can be seen at the left and the new Sandra Day O'Connor Federal at the right. 8-03.
Gene also moved on to television station ownership with the purchase of stations in Arizona. His Phoenix radio station expanded into television and started broadcasting on Channel 10 on October 24, 1953. He bought the CBS radio affiliate KOPO in Tucson. On Jan. 13, 1953, KOPO expanded into television on Channel 13 becoming Tucson's first television station. Five years later Gene's Tucson stations changed their call letters to KOLD, showing off a family resemblance to his Phoenix holdings.
Gene bought radio stations in Yuma, Nogales and Coolidge. His Gene Autry Western Store opened in the Adams Hotel, and he invested in The Arizona Republic and the Phoenix Gazette.
Outside of Arizona, he acquired interests in radio stations in Hollywood, San Francisco, Seattle, and Portland, and a television station in Los Angeles. He invested in the Mark Hopkins Hotel on Nob Hill in San Francisco, the Continental on Sunset Strip in Hollywood, and the Ocotillo Lodge in Palm Springs. He had interests in two music publishing companies, and was part owner in the Rams football team.
In 1961, Gene spent $2.1 million for the right to own an American League expansion team, and the Angels baseball team was born. The California Angels played their inaugural major league game on April 11, 1961 against in the Baltimore Orioles. The game looked like it was going to be a mismatch. The Orioles were a powerhouse team that ended in second place the previous year. In contrast, the Angels were, as described by their own official team site, "Gene Autry's collection of untried rookies and major league castoffs." The Angels won that game 7-2, and went on finish their first season with 70 wins, topping the number of wins for expansion team's first season.
The Angels have been winter visitors since their inception. Initially, they trained in Palm Springs, but played midweek games in Phoenix, Mesa and Scottsdale. In 1993, they moved their spring training to Tempe as part of the Arizona's Cactus League. In 1999, the Angels named their training diamond, "Gene Autry Field."
Gene has been quoted as saying, "Phoenix is sort of a second home to me," and that he would like to retire to Arizona when his movie making days were over. Although he stopped making movies, he never retired to Arizona--or anywhere else.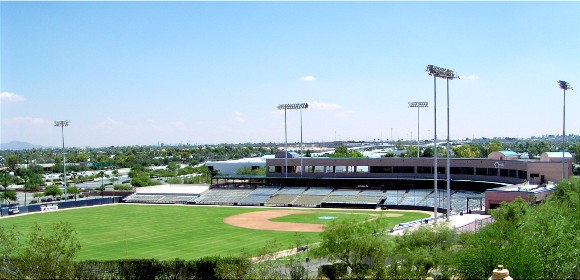 Tempe Diablo Stadium is the spring training home of the Anaheim Angels. 8-03.
CD's and DVD's from amazon.com


The Ultimate Collection - Gene Autry - CD
Includes: "Tumbling Tumbleweeds"
"You Are My Sunshine"
"Have I Told You Lately That I Love You"
Audio samples available


Here Comes Santa Claus - Gene Autry - CD
Includes: "Rudolph the Red-Nosed Reindeer"
"Frosty the Snowman"
"Thirty Two Feet, Eight Little Tails"


Gene Autry in Melody Ranch (1940) - DVD
Gene's Arizona hometown of Torpedo invites him back to be the honorary sheriff of the Frontier Days Celebration...


Gene Autry in Phantom Empire Volume 1 (1935) - DVD
Gene Autry's first staring roll and possibly the only musical-science-fiction-western serial you'll ever find.
The plot: A singing cowboy discovers an advanced ancient civilization (with ray guns and TV) buried under his Radio Ranch. The Muranians' rich radium supply draws unscrupulous speculators from the surface who corrupt the innocent subterranean people. Gene restores world peace without interrupting his radio broadcast.