Bonaduce, Danny
(1959.08.13- ) Child actor, disk jockey, author, host.

Lived in Phoenix

Arrested in Phoenix
Danny was the red headed child actor playing the bratty Danny Partridge on The Partridge Family from 1970 to 1974. Opportunities being what they are for former child actors, Danny turned to radio, eventually landing a spot on Phoenix's Power 92 KKFR where he kept Partridge as his on air name.
Phoenix is the location of a couple of Danny's more interesting adventures. In 1990, the radio station set him up on a blind date with a gal named Gretchen. Danny and Gretchen were married the same day. Surprisingly, they have been together ever since--in spite of Danny's other interesting adventure.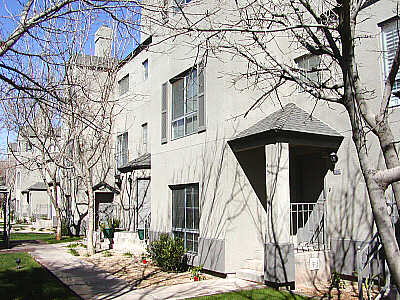 The St. Croix Villas at Fillmore and 1st Street where police found little Danny Partridge naked under a pile of clothes. 3-02.
On the evening of March 31, 1991, the newlywed picked up a hooker and arranged for $40 of services. Danny says that he was "wasted" and didn't realize until the tall, 220 pound professional was in his car that she was not a she. He complains that had the hooker been a good transvestite, he might never have known and the incident that followed might never have happened.
According to Danny's version of the incident, upon discovering his error, he asked his passenger to get out. She refused, demanding payment for being taken off her corner. Danny got out, went around, opened her door, and pulled her out. He says that upon discovering the size of his guest and being in fear of bodily injury should she get violent, he struck first and it turned into a fight.
A passing patrol was alerted to the apparent man-beating-woman incident, and Danny fled to his home in the St. Croix Villas at 100 East Fillmore. When police arrived, they found him in the bedroom, naked, beneath a pile of clothes.
Though one wonders why since the incident could only help ratings, the radio station was not amused and Danny's radio career in Phoenix came to an end. No tears should be shed for Danny. He was sentenced to probation for the incident, in spite of a record of drug arrests on drug charges in California (1985) and Florida (1990). He moved on to DJ in progressively bigger markets--WKQI in Detroit, WNSR in New York, and STaR 98.7 in Los Angeles. In 2001 to 2003, he was also co-hosting the short lived "The Other Half" on daytime NBC television with Dick Clark and Mario Lopez.
Monday, October 25, 2004 saw Danny return to Phoenix radio in the morning drive-time slot on KPHX 1480 AM. Things weren't exactly like they were when Danny came to the valley over a decade earlier. This time, he never left LA where he continued to host his STaR 98.7 show. Instead, he was broadcasting via an ISDN hookup from the from All Comedy Radio studios on the Sunset Strip in Hollywood. Just coincidentally, CEO of All Comedy Radio happened to be the managing partner of KPHX.