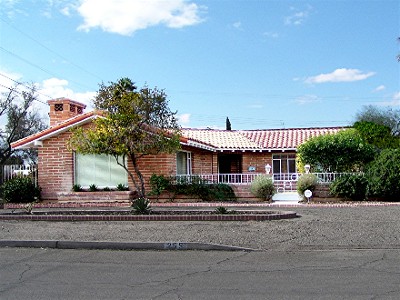 The Bonanno home at 255 Sierra Vista Drive is only a few blocks away from his Elm Street home which was razed to make way for a widened Campbell on the East side of the University of Arizona Medical Center complex. 1-04.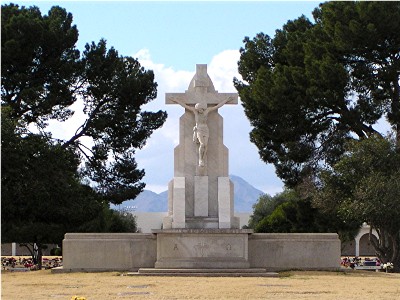 The Bonanno crypt is in the back of the monument directly behind the 3555 North Oracle Road entrance to the Holy Hope Cemetary in Tucson. 1-04.

Bonanno, Joseph
(1905.01.18-2002.05.12) Mafia godfather.

Lived in Tucson

Died in Tucson
Many famous figures in Arizona history came to the state for their health. When the model for the title character in Mario Puzo's The Godfather was forced into "retirement" by an internal Mafia conflict in the 1960's he too came to Arizona for his health.

The godfather in exile took up residence at 1847 E. Elm, north of the University of Arizona Medical Center in Tucson, and declared himself in retirement. Though appearing unremarkable, the five story brick home had some interesting features. Fake bricks on exterior walls offered secret views of the outside. Inside, two small secret rooms including one off the master bedroom afforded the godfather a hiding place should his retirement not be honored.
In the 1970's, Bonanno moved to 255 Sierra Vista Drive, where it is suggested that he continued to oversee worldwide underworld activities and dodge federal agents.
Bonanno died of natural causes at the age of 97. About 500 people, many with blood ties to noted La Cosa Nostra clans, attended the funeral mass at SS. Peter and Paul Catholic Church in Tucson. His casket was placed in a crypt next to his wife.