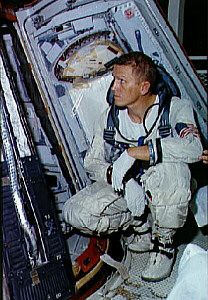 Astronaut Frank Borman inspects the Gemini 7 spacecraft which he will command. NASA photo 10/25/65.
Borman, Frank
(1928.03.14- ) Astronaut.

Lived in Tucson
Frank Borman was born in Gary, Indiana, and was raised in Tucson. He was a quarterback on the Tucson High School football team that won the Arizona state football championship in 1945. He had his sights set higher than football, becoming an U.S. Air Force fighter pilot, and then a NASA astronaut. He was the Commander of the 1968 Apollo 8 mission, making him one of the first three humans to orbit the moon.