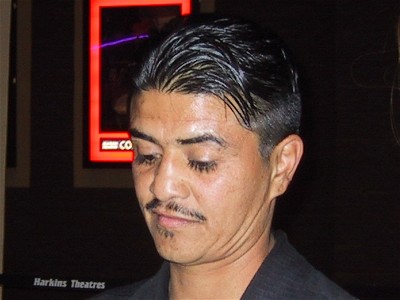 Michael signs an autograph for a fan at the premier of Black Cloud (2004). 9-04
Carbajal, Michael
(1967.09.17- ) Boxer, Olympic Silver Medallist, 4 time Junior Flyweight Champion.

Lives in Phoenix
Phoenix native Michael Carbajal was America's Junior Flyweight entry in the 1988 Seoul Olympics in South Korea. In a controversial decision, he took the Silver medal after a match in which he dominated the Bulgarian boxer to whom the judges gave the Gold medal.

Seven months after the Olympics, Michael made his professional boxing debut. In a professional career spanning the next ten years, Michael recorded 49 wins, 33 of which were knockouts, and only 4 losses. He was the Junior Flyweight Champion of the International Boxing Federation (IBF) from 1990 to 1994 and for 1996-1997, and of the World Boxing Council (WBC) for 1996-1997.
Following retirement, Michael went on to train boxers at the Ninth Street Gym in Phoenix.