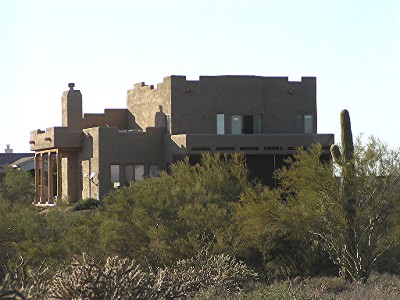 Maricopa County records identify this as the 2,265 square foot home purchased in Mrs. Condit's name in April, 2003. The county assessor listed the property's value at $194,500. 1-04.
Condit, Gary
(1948.04.21- ) U.S. Congressman.

Has a home in North Phoenix
While serving as the Democrat Representative for California's 18th District in the U.S. House of Representatives, Condit had the misfortune of having an affair with an intern for the U.S. Bureau of Prisons who mysteriously disappeared in April, 2001. The body of intern Chandra Levy was not discovered until May, 2002.

Although there was no evidence linking Condit to the disappearance of Chandra Levy, the affair received much media attention and some reports even implied such a link. The publicity ended Condit's 12 year career as representative with his defeat in his 2002 reelection campaign. Condit's involuntary retirement left him free to pursue a $35 million lawsuit against the National Enquirer and an another $11 million suit against celebrity crime writer Dominick Dunne over stories he believed unfairly linked him to the intern's death.
In February, 2003, the San Francisco Chronicle reported that Condit and his wife, Carolyn, were looking for peace and quiet in a new home in Scottsdale. County records indicate that the home is actually in nearby North Phoenix.