Cooper, Alice
(Vincent Damon Furnier, 1948.02.04- ) Musician, singer.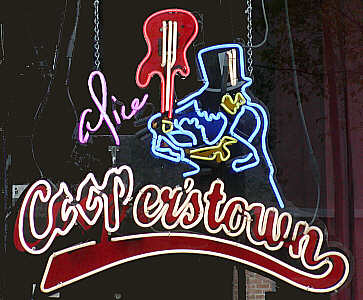 The neon in the window of Alice's restaurant at 101 E. Jackson Street, Phoenix. 3-02.

Grew up in Phoenix

Lives in Paradise Valley
Vince was born in Detroit, Michigan, the son of a minister. The family moved to Phoenix when he was 13. In high school, he formed a band which was eventually became "Alice Cooper" after a woman who was persecuted for witchcraft in Medieval Europe.

Vince Furnier's parents say that as a high school student, he gave no inkling that he would achieve fame from the macabre. They had even once hoped that he might go into the ministry like his father and grandfather.
Teachers and students at Cortez High might have seen some clues. School dances were turned over to Vince. While teens at other schools danced under crepe paper and colored balloons, the Cortez kids cavorted with ghosts and witches amid lighted caldrons and a guillotine.

Vince Furnier legally changed his name to Alice Cooper so that is the name that appears on documents like this one from the Maricopa County Recorder's Office. 5-02.
Vince's first Alice style stage performance came at a school assembly. He and other members of his track team performed as a Beatles farce band, the "Earwigs." Not long after the Earwigs had sung songs like "Caterpillar Stomp" to Cortez students, Vince's group was on stage at the VIP Club, dressed in black and performing with a giant web as "The Spiders."
In a 1986 interview with Jimmy Magahern writing for Phoenix's New Times, Alice explained how his concept for the band was born from being a parental irritant. "I mean," he said, "nobody's worked harder at being an irritant than me. When my parents saw the Beatles, they really hated them, which made me immediately love the Beatles. Then when my parents saw the Rolling Stones, they immediately said, 'Well, the Beatles are okay.' At that point I looked at the Rolling Stones and said, 'Okay, now what band would actually make the Rolling Stones retch. That's the band I want to be."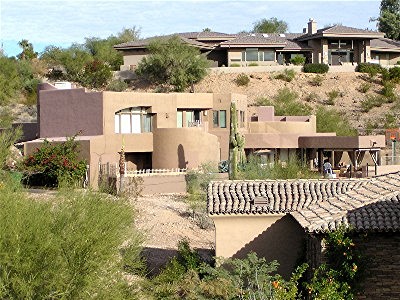 Alice's home is in the shadow of Camelback Mountain in Paradise Valley, and a stone's throw from Barry Goldwater's former residence. 11-03.
Following high school, the Spiders made their way to Los Angeles, and made their first record which was moderately successful. They changed their name to the Nazz and released a second single with similar modest results. In 1968 they discovered that another band already had the name Nazz, so they took the name Alice Cooper. On their third try, they got it right. Alice Cooper's album, "Love It To Death" was a smash.