DeGrazia, Ted
(Ettorino DeGrazia, 1909.06.14-1982.09.17) Impressionist artist.

Lived in Morenci & Tucson

Graduate of University of Arizona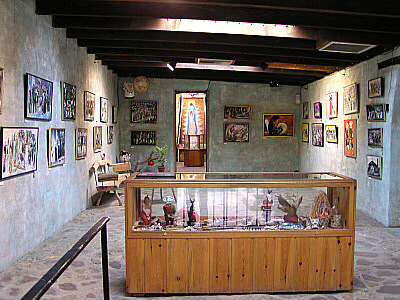 Inside a back room in DeGrazia's Gallery in the Sun. While the paintings are likely interest only DeGrazia fans, the buildings designed by DeGrazia will interest a broader audience. 2-03
DeGrazia grew up in Morenci, Arizona, where he graduated from Morenci High School. In 1932, he enrolled at the University of Arizona. Although he dropped out before graduating, he returned to earn a B.A. in in music and art, and in 1945, a masters degree in art. He opened his first gallery in Tucson at the end of World War II.

Success came late in Ted DeGrazia's life. He once told an interviewer that there were many years when he couldn't trade a painting for a bottle of whiskey. When his art, often featuring angels and children, became popular, some of the paintings he couldn't trade for a drink were worth thousands of dollars. With success he said he was transformed from a drunk to an eccentric.
DeGrazia died of cancer at age 73. In 1998, years after his death, his five acre Apache Junction estate with an adobe home and valued $1.3 million was auctioned off. His DeGrazia Gallery in the Sun on ten acres in the Catalina Foothills at 6300 N. Swan Road, Tucson, continues to offer tours which include thirteen rooms of original artwork.