Denny, Reginald
(1945- ) Truck driver, riot victim.

Lives in Lake Havasu City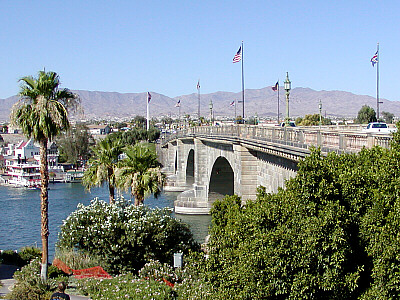 Lake Havasu City, Reginald Denny's new home, is where the real (if not the current) London Bridge is located. 6-02.
Reginald Denny came to the attention of millions of television viewers when he had the misfortune of being at the wrong place at the wrong time. The place was Florence and Normandie in South-Central Los Angeles. The time was around 6:45 PM on April 29, 1992, within hours after the acquittal of four Los Angeles policemen an charges of beating Rodney King. It was then and there that outrage at the verdict had erupted into a riot.
Denny was driving an 18 wheel truck with 27 tons of sand to a cement mixing plant when he stopped at the intersection. The window of his truck was smashed by a brick, and several black men pulled him from the truck. He was knocked to the pavement, kicked and smashed in the head to near unconsciousness.
The Real Reginald Denny
On July 5, 2002, our webmaster received this irate Email:
I can't believe that you have this guy that was beat up under celebritys [sic]. Reginald Denny was a veteran actor and did over 400 films and has many sites on the internet. Why did you put this guy the Reginald Denny that was beat up in '56 [sic] on this site? He is absolutely no relation to the "Reginald Denny of stage and screen".

I know as I am the daughter of "Reginald Denny" of the stage and screen who passed away in July of '66

Deborah Denny McBride
Denny's assault, like the King beating, was seen by millions on television. Unlike the King beating, Denny's travail was carried live by media helicopters that hovered over the riot torn streets.
Bobby Green, a black truck driver whose home was not far from the intersection, was watching television when he saw Denny being pulled from the truck. Not saying a word to his family, he left the safety of his home and rushed to the melee. With the help of other black rescuers, another man and two women, he managed to push Denny back into the cab. Green drove the truck to the hospital emergency room, saving Denny's life. He then returned the truck to the company lot and quietly made his way home.
Denny found the right place to escape the spotlight. He settled in Lake Havasu where he eschews interviews about the incident.
Books from amazon.com

"A look at the Rodney King Riots from the streets"
"A moving memoir of the LA riots argues against violence"