Devine, Andy
(Jeremiah Schwartz, 1905.10.07-1977.02.18) Actor.

Born in Flagstaff

Grew up in Kingman

Attended ASU
Although best known as the comic sidekick in countless westerns, Andy Devine had a film career starting in silent movies and spanning 183 films.
Andy was born in Flagstaff on October 7, 1905, where his father worked for the railroad. The following year, the family moved to Kingman to operate the

Beale Hotel which Andy's father had purchased with money from a settlement for an accident in which he lost his leg.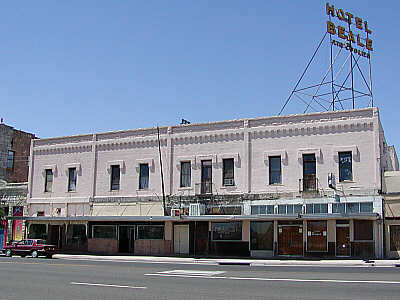 The Hotel Beale stood abandoned in 2002, with its better days well behind it. 6-02
Besides operating the hotel, Andy's father, Tom Devine, had a bit of a political side and was elected as Treasurer of Coconino County. He was also involved in Northern Arizona's Good Roads Association, which successfully lobbied for the National Old Trails Highway to take a northern route instead of going through Phoenix. This highway eventually became Route 66.
Andy was a likable, if a bit exuberant child. His combination of heft and ebullience proved nearly lethal. He suffered broken bones in falls from porches at the Beale Hotel and a friend's home, and later, out of a tree at military school. His trademark raspy voice was the result of another childhood fall with a stick in his mouth.
Cats and pigs fared no better from Andy's youth. In a greased pig contest Andy, no small lad, squashed the pig when he fell on it. Disposing of a feral cat for a local judge, Andy and a friend tied a stick of dynamite to the poor creature and lit the fuse. When the cat followed them, they ran for cover in a house but the cat crawled under the house. Fortunately for the boys and the homeowner the cat took cover in a woodshed by the time the fuse, the cat, and the woodshed expired.
Andy left Kingman to play college football at St. Mary & St. Benedict College, Arizona State Teacher's College, and Santa Clara University before landing parts in silent pictures. When talkies came in, his raspy voice became an asset for the comic sidekick.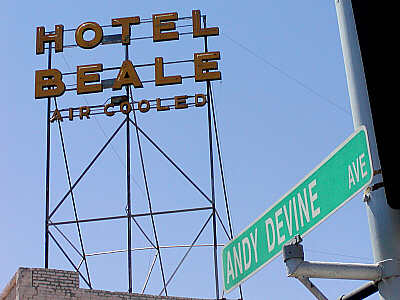 Route 66 runs directly in front of the Hotel Beale. In honor of its most famous resident, the city has named it Andy Devine Avenue. 6-02.
Besides a remarkable film career, his popularity grew when he starred opposite Guy Madison in the 1951 simultaneous radio and television series, "Adventures of Wild Bill Hickok." In 1955 while Hickok was still running, he took over hosting the retitled children's show "Andy's Gang".
Andy is buried at the Pacific View Memorial Park in Corona Del Mar, California, but he is remembered by Kingman with the main street that bears his name and the annual Andy Devine Days.