Foss, Joe
(Joseph Jacob Foss, 1915.04.17-2003.01.01) Marine pilot, Congressional Medal of Honor recipient (1943), governor of South Dakota (1955-1957), president of the American Football League (1960-1966), host of American Sportsman (1964-1967), president of the National Rifle Association (1988-1990).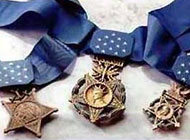 Congressional Medal of Honor
FOSS, JOSEPH JACOB - Captain, USMC Reserve, Marine Fighting Squadron 121, 1st Marine Aircraft Wing.
Action: Over Guadalcanal, 9 Oct to 19 Nov 1942, 15 and 23 Jan 1943.
Inducted: South Dakota.
DOB: 17 Apr 1915, Sioux Falls, SD.
Citation: For outstanding heroism and courage above and beyond the call of duty as executive officer of Marine Fighting Squadron 121, 1st Marine Aircraft Wing, at Guadalcanal. Engaging in almost daily combat with the enemy from 9 Oct to 19 Nov 1942, Capt. Foss personally shot down 23 Japanese planes and damaged others so severely that their destruction was extremely probable. In addition, during this period, he successfully led a large number of escort missions, skillfully covering reconnaissance, bombing, and photographic planes as well as surface craft. On 15 Jan 1943, he added 3 more enemy planes to his already brilliant successes for a record of aerial combat achievement unsurpassed in this war. Boldly searching out an approaching enemy force on 25 Jan, Capt. Foss led his 8 F-4F Marine planes and 4 Army P-38's into action and, undaunted by tremendously superior numbers, intercepted and struck with such force that 4 Japanese fighters were shot down and the bombers were turned back without releasing a single bomb. His remarkable flying skill, inspiring leadership, and indomitable fighting spirit were distinctive factors in the defense of strategic American positions on Guadalcanal.

Lived in Scottsdale

Died in Scottsdale
Raised on a farm outside Sioux Falls, the young farm boy was captivated by the exploits of Charles Lindberg who had visited a nearby airport. He supported himself waiting tables while at the University of South Dakota, earning a business degree in 1940, and at the same time managed to complete a civilian pilot training program.

He enlisted in the Marines as an aviation cadet, earning his wings a few months before Pearl Harbor. At 27, he was considered too old to be a fighter pilot, but after diligent lobbying he was trained on the the new F4F Wildcat. He was sent to the South Pacific as executive officer of Marine Fighting Squadron 121 where he would fly the lead of two four-plane squadrons which became known as "Foss's Flying Circus." He racked up 26 aerial victories, equaling Eddie Rickenbacker's World War One record.
In May, 1943, President Roosevelt personally presented him with the Congressional Medal of Honor. The next month Captain Foss's image graced the cover of Life magazine where he was identified as "America's No. 1 Ace."
After the war, he returned to South Dakota where he was elected to the state House of Representatives. His political career was interrupted when he was called to active duty for the Korean War. In 1954, he was elected Governor of South Dakota and two years later was elected to a second term.
Foss followed his political career by becoming the first commissioner of the American Football League in 1960, a position he held until 1966. Foss became the first host of "The American Sportsman" from 1964 to 1967, and his own syndicated television show, "Joe Foss: Outdoorsman," from 1967 to 1974.
In the early 1980's Foss retired to Arizona like many other South Dakotans. Not one to be idle in retirement he accepted the position of president of the National Rifle Association (NRA) in 1988, which he held until 1990.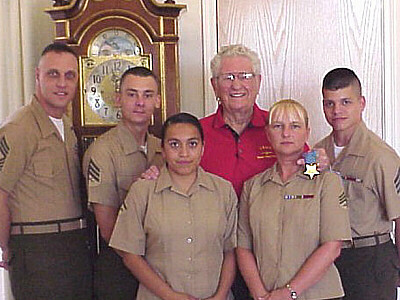 Five Marine Aviation Logistics Squadron-13 Marines from the Marine Corps Air Station in Yuma helped Joe Foss celebrate his 87th birthday in his Scottsdale home. He holds his Medal of Honor above the shoulder of one of the Marines. USMC photo 04/17/2002.
In January, 2002, the 86 year old Foss was on his way to board a plane to Washington D.C. at Phoenix Sky Harbor International Airport when he was pulled aside by security checkers. Notably skittish following the 9-11 terrorist attack, a guard examined the star shaped Medal of Honor Foss had in his pocket to use at a speech he was going to give at West Point. The guard held the medal to see if it could be used as a weapon. He was allowed to proceed with the medal, but the guard confiscated a silver bullet replica given to Foss by NRA President Charlton Heston.
Foss suffered an apparent aneurysm in the fall of 2002. He never regained consciousness and died in Scottsdale on January 1, 2003.
In 2001, The Joe Foss Institute was organized "to help enlist fellow veterans in a nationwide effort to bring a message to school-aged children about the importance of integrity, the meaning and importance of patriotism, and the real value of the freedom we enjoy in the United States." Members of the institute's advisory board included Tom Brokaw, who took time off from his news anchoring duties at NBC to write The Greatest Generation (Random House, 1998). Joe Foss was featured in that book.