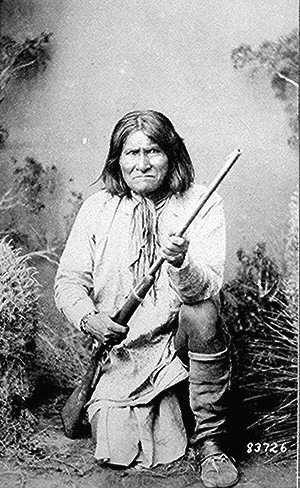 An 1887 photo of Geronimo. Courtesy of National Archives, American Indian Select List number 101.
Geronimo
(Goyathlay, c. 1829-1909.02.17) Apache Indian leader.

Born in upper Gila River country of the Arizona Territory when it was part of Mexico

Lived in Arizona
When Geronimo was born in the upper Gila River area it was a part Mexico. Mexican soldiers were attempting to control the troublesome Apaches with methods approaching genocide. In 1858 the soldiers killed the young Geronimo's mother, wife, and three small children.

The expanding United States was taking control of the area from Mexico. In 1848 under the Treaty of Guadalupe Hidalgo, Mexico was forced to abandon its claim to Texas and to cede the territory which would become New Mexico, Arizona, California, Colorado, Utah and Nevada. In 1852 The Gadsden Purchase added a strip of territory south of the Gila River to what are now the states of New Mexico and southern Arizona.
The new management was no improvement for the Apaches.