Hall, Gary, Jr.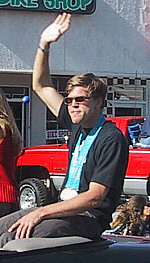 Gary Hall, wearing his Olympic medals, waves at the crowd as Grand Marshall of the 2000 Fiesta Parade.. 12-00.
(1974.09.26- ) Swimmer, Olympic Bronze, Silver & Gold Medalist.

Born in Phoenix

Lives in Phoenix vicinity
Gary Hall, Jr. won Silver medals in the 50 and 100-meter freestyle in the 1996 Olympics in Atlanta. In 1998, he was suspended from swimming for 3 months and dropped by his sponsor, Speedo, after testing positive for marijuana. In 1999 he developed diabetes. In the Sydney, Australia, 2000 Olympics he won Bronze for the 100-meter freestyle, Silver in the 4x100-meter relay, and Gold for a dead heat tie the 50-meter freestyle.

Gary's father, Gary Hall, Sr., a prominent valley eye surgeon, was a three time Olympic swimmer. He won Silver medals in the 400-meter individual medley at the 1968 Mexico City Games and the 200-meter butterfly at the 1972 Munich Olympic Games, and a Bronze medal in the 100-meter butterfly at the Montreal Olympics in 1976.
Gary's grandfather, Charles H. Keating, Jr., was a swimming champion at the University of Cincinnati, winning the 1946 NCAA title in the 200-yard butterfly. When Gary was swimming in the 1996 Olympics, his grandfather was residing at the Federal Corrections Institution in Tucson on a conviction for securities fraud for inducing 17,000 investors to buy $250 million in uninsured bonds while acting as chairman of Lincoln Savings & Loan.