Helmsley, Leona
(Leona Mindy Rosenthal Helmsley, 1920.07.04- ) Real estate salesperson, heiress, felon.

Wintered in Paradise Valley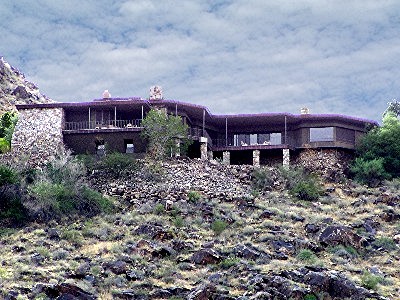 The Helmsley's snowbird home. 11-03.
The "Queen of Mean" and heiress to Harry Helmsley's real estate holdings which once included the Empire State Building, spent 9 winters in digs that surpass any other snowbird's.

The 20,000-square foot Helmsley home in the Las Brisas community on Mummy Mountain in Paradise Valley has a 360 degree view of Phoenix and the surrounding mountains, no less than 12 bathrooms, elevators, and three pools including one of Olympic proportions with underwater sound and one with a 36 foot waterfall. With an asking price of $25 million ($19 million more than she paid), it was on the market for over a year in 1998. The price turned out to be overly optimistic. In 2003, the Maricopa County Assessor placed the full cash value of the property at $9,342,000--with an annual tax bill of $69,296.60. In 2005, Leona finally sold her snowbird home for a reported $8 million.