Jameson, Jenna
(Jennifer Marie Massoli, 1974.04.09- ) Porn star, entrepreneur.

Lives in Paradise Valley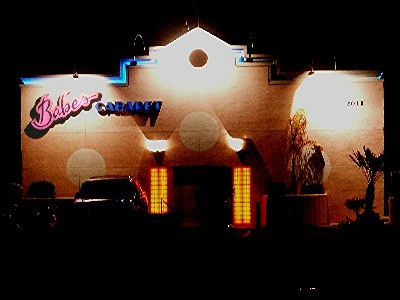 Babes Cabaret at 2011 N. Scottsdale Road, Scottsdale, before the Jenna transformation. If they were visible in the darkness of the entrance, you would see two doorman suspiciously eyeing the photographer. Jenna and her partners, who include the CEO and the President of Vivid Entertainment, planned on renovating and reopening the property as Club Jenna in October, pending approval of transfer of the liquor license to the new owners. 8-05
In August 2005, quite a few eyebrows on south Scottsdale residents were raised when they discovered that pornography "actress" Jenna Jameson had acquired a club in their quiet neighborhood. Never mind that the club was the infamous Babe's Cabaret at 2011 N. Scottsdale Road which already featured mostly naked dancers to titillate patrons into a state of arousal. Jenna was a star of major proportions. One could only imagine the result if such a celebrity leveraged her talents in their neighborhood. A pornographic theme park catering to perversions of unimaginable variety would not exceed the range of possibilities.

Given Jenna's film catalog, such fears might not be unreasonable. Born in Las Vegas to a police officer father and showgirl mother, Jenna studied ballet but turned to stripping after she turned 18, perhaps because of the difficulty in squeezing her generous upper proportions into a tutu. By her 20th birthday, she had appeared in dozens of top men's magazines, and a bidding war ensued for her services on the pornographic screen.
Wicked Pictures signed her to an exclusive contract in 1994. That year saw her in no less than 6 pictures including Up and Cummers 11 (which she would later revisit with a appearances in Up and Cummers 17 and 20), Elements of Desire and The Dinner Party (in which she would appear as the recurring Daisy), and Cherry Pie (where she was Betty Blueballs).
Jenna was barely warming up. In 1995, she is credited with 19 features including Where the Boys Aren't 7 (which would be followed with appearances in Where the Boys Aren't 14, 16, and 17), On Her Back, and Lip Service.
By 1996, Jenna's name was appearing in titles in features such as Jenna's Revenge, Jenna Loves Rocco, and Jenna Ink. That year saw her take the triple crown in porn awards as she received awards for the XRCO Best New Starlet, the F.O.X.E. Video Vixen and the AVN Best New Starlet. At the end of the year, she married her director and sometimes co-actor, Brad Armstrong--who is described on Wicked Pictures web site as "one of the industry's most in-demand woodmen."
Alas, wood or no wood, the marriage was not destined to last and they were divorced in 2001. Not one to waste time, in 2000 Jenna was already engaged to another director, Justin Sterling. In 2003 they were married.
The couple is reported to reside in Paradise Valley--where Scottsdale residents say she should be opening her new club instead of in their neighborhood.