Jennings, Waylon
(1937.05.15-2002.02.13) Singer, musician.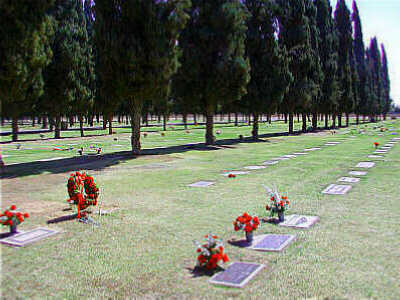 Waylon Jennings is interred in the City of Mesa Cemetery, 1212 N. Center Street. His plot is marked by the larger wreath in the photo which was taken before the placement of the headstone. The gravesite is the in the 4th row of graves west of 9th Street, behind the 6th tree south of "B" Street. 3-02.

Lived in Phoenix, Mesa

Died in Mesa
Born in Littlefield, Texas, Jennings started as a radio DJ when he was only 12. In Lubbock, he became friends with Buddy Holley and they co-wrote a Holly demo. Jennings played bass on Holly's last tour, giving up his seat for The Big Bopper on the plane that crashed killing Buddy Holly, Ritchie Valens and The Big Bopper.

Jennings moved to Phoenix forming his own group, the Waylors, where they were the resident band for the club J.D.'s for two years starting in 1964. He started recording for RCA in 1965, making the country charts with his first release. During his nearly 50 year career he recorded 60 albums and had 16 number one country singles.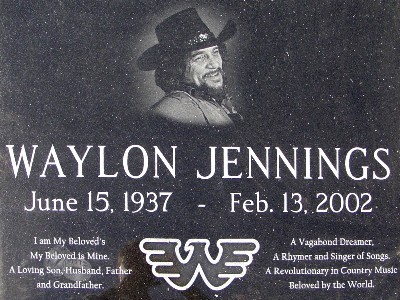 The headstone on the Waylon Jennings grave. 3-03.
In 1984, he ended a 20-year cocaine addiction. He once told a magazine interviewer, "I did more drugs than anybody you ever saw in your life."
He moved to Mesa with his wife a year before his death. In December, 2001 an infection resulting from his diabetes required the amputation of his left foot. He is buried in the Mesa City Cemetery, Mesa.