Kennedy, John F.
(John Fitzgerald Kennedy, 1917.05.29-1963.11.22) 35th President of the United States.

Toughened up, recuperated in Arizona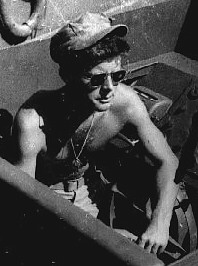 Lt. John F. Kennedy aboard the PT109, 1943, between stays in Arizona. John Fitzgerald Kennedy Library.
In the spring and summer of 1936, JFK and his brother older brother, Joseph P. Kennedy, Jr., were hired ranch hands of John G. F. Speiden. Speiden left his Wall Street banking job in 1932 and moved to Arizona for his health. In Arizona he operated the 40,000 acre Jay-Six Ranch outside Benson. In addition to cattle, the ranch became known for graciously entertaining guests such as author Thornton Wilder.

The young JFK's poor health worried his parents. When on a trip to attend school England in 1935, he became ill and was sent home to convalesce. A journalist and close friend of the boys' father who knew Speiden from Wall Street suggested the ranch to the Kennedy father. Work in the warm Arizona climate would be just the thing to toughen JFK up for school athletics when he would join his older brother at Harvard in the fall.
Besides herding cattle and repairing wire fences, the Kennedy boys help to build an adobe house to serve as an office. Speiden later referred to it as "the house that Jack built." The ranch jobs apparently performed their function, since the Kennedy boys went back to play football at Harvard.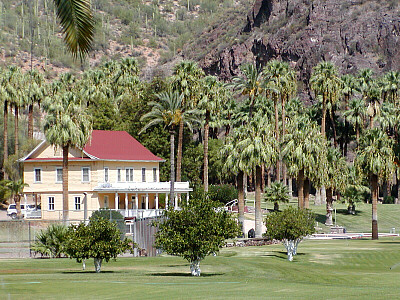 Much of the Castle Hot Springs remains, but it is no longer open to the public. 8-02.
Early in 1945 the 28 year old JFK returned to Arizona. He was then an injured and decorated Navy veteran of WWII, in route to the Castle Hot Springs Hotel for R&R. The Castle Hot Springs, about 30 miles north of Phoenix, had achieved some fame at the turn of the century as a spa featuring the "magic waters of the Apaches." In its heyday it hosted members of the Rockefeller, Vanderbilt, Ford, Theodore Roosevelt, and Astor families. The resort closed during WWII because of the fuel and food shortages. Around 1944, the Army Air Corps leased the hotel as a rehabilitation facility for its pilots.
Apparently tiring of the isolation of the Castle Hot Springs JFK checked into the Arizona Biltmore. The Biltmore was then as now a world-class resort, but the formality did not agree with JFK. He soon moved to a small, family-run hotel further out of town called the Camelback Inn. He was at the Camelback Inn when the country learned of FDR's death on April 12, 1945.