Korbut, Olga
(1955.05.16- ) Olympic athlete, child actress, gymnastics instructor.

Teaches gymnastics in Scottsdale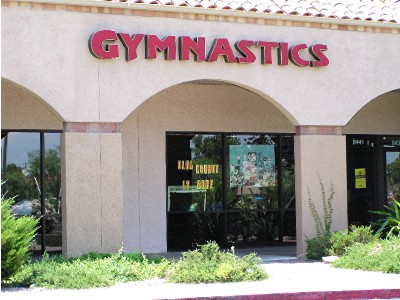 Red and yellow adhesive plastic letters on the window at 8439 E. McDonald Drive in Scottsdale announce "OLGA KORBUT IS HERE." 6-03.
Olga Korbut was a champion Olympic athlete for the Soviet Union when there was still a cold war. Three decades later she was the main attraction for a strip mall gymnastics school in Scottsdale. Not surprisingly, she took a circuitous path to make it from her native Grodno, Byelorussia, to the Arizona desert.

The means for Olga's exodus from Russia was laid by her physical education teacher who saw gymnastics potential in her energetic running and jumping. Olga was transferred to one of the many state run sports schools. In 1972, she qualified to be an alternate on the strong Soviet Union women's gymnastics team for the Munich Olympics.
Like the understudy who gets her big break when the star takes ill, Olga vaulted into the international spotlight as a replacement for an injured teammate. At the Munich Olympics the diminutive pony tailed teen dazzled television audiences with a spectacular routine on the uneven parallel bars. Her flawless performance which included the first successful completion of a backwards somersault in competition lead the Soviet team to a gold medal. Her performance in individual events earned her gold medals for the balance beam and floor exercise, and a silver medal on the uneven parallel bars.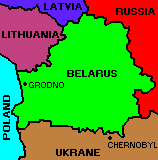 Grodnos (Hrodnos) lies on the Neman River in western Belarus near the Polish border. It has been ruled at various times by its neighbors Poland and Lithuania, and more recently, Russia.
Ebullient, personable and younger than her stoic teammates, Olga emerged as the celebrity of women's gymnastics, even though she was not the number one gymnast on the Soviet team. The Soviet women's team made a tour of the United State the following year to sell-out crowds, including a performance before 19,694 fans at New York's Madison Square Garden which was then the largest audience for a gymnastic event.
Olga made a return performance at the 1976 Montreal Olympics, but received only two gold medals, and one for the team competition and one in the balance beam. She retired from competition 1976 and went to work as a coach for the Belarus State Sport Committee where she had trained.
In 1986 the nuclear accident at Chernobyl released a cloud of radiation which covered much of Eastern Europe. In 1990 as fear of thyroid cancer among children grew, Olga sent her 11 year old son, Richard, to live with friends in New Brunswick, N.J. During the same period, the Soviet Union was disintegrating and athletic stipends were dissipating. Olga and her then husband joined their son in New Jersey in 1991 where she started coaching.
Shortly after arrival in New Jersey, Olga was enticed into moving to Atlanta by a gym owner where excitement over the upcoming 1996 Atlanta Olympics reigned. Coaching in a free enterprise gym was not like coaching in the state supporting system, and Olga never found students with the discipline or talent she had hoped to encounter.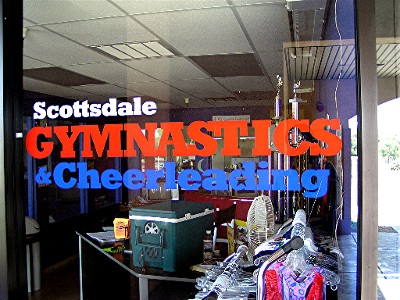 In August 2002, Olga became the head coach at Scottsdale Gymnastics & Cheerleading. 6-03.
The American dream had turned nightmarish for Olga in Atlanta. In 2000, she and her husband were divorced. In January, 2002, Olga was arrested for shoplifting $19 of food from a Publix grocery store in Norcross, Georgia. In February, 2002, over $30,000 in counterfeit $100 bills were found in her former home in the tony Duluth area during eviction proceedings. Records indicate that her former husband bought her interest in the home in the divorce proceedings. Her son Richard and a friend were the most recent occupants, while her former husband had returned to Belarus.
While Olga was having her troubles in Atlanta, Scottsdale stock broker and real-estate manager Arthur Cooper was having his own problems. He and his wife Linda had invested in the Magicland gym, but found it could not attract enough aspiring gymnasts to keep it afloat. When the owner pulled out, they were left to run the gym.
The Coopers made some changes. They renamed the gym Scottsdale Gymnastics and Cheerleading and looked for a "star" to attract customers. They found Olga in Atlanta and invited her to come to Scottsdale to offer a summer gymnastics camp at the gym.
The summer camp was held in June, 2002. With registration at $99 a student for the two week camp, it produced enough interest for the Coopers to offer Olga a full time job. In September, 2002, she became the head coach at Scottsdale Gymnastics and Cheerleading.
Olga has not given up other opportunities to cash in in her celebrity. At her official web site, olgakorbut.com, you find out how to purchase 5x7 autographed pictures, or have her make personal appearances, clinics, and motivational speeches for businesses.