McFarlane, Todd
(1961.03.16- ) Cartoon artist, redesigner of Spider-Man, creator of Spawn.

Lives in Phoenix (Ahwatukee)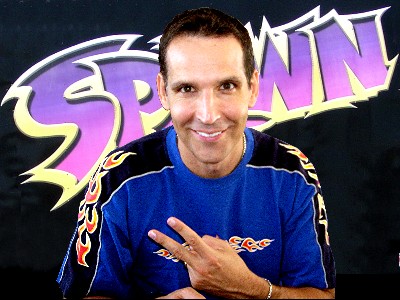 Todd McFarlane, creator of Spawn, autographed his creations for fans at the opening of McFarlane Toys in Tempe on October 16, 2004. 10-04.
An emigrant from Calgary, Alberta, Canada, Todd is famous in comic circles for the drastic redesign of Spider-Man and other characters, and for the creation of the comic super-hero, Spawn.

Although an avid comic book collector in his teens, his interest in comic book art competed with his first love, baseball. He attended Eastern Washington University on a baseball scholarship, but studied graphic art. It appeared that he might be headed toward his dream of playing professional baseball when he was recruited by the Seattle Mariners for a semi-professional summer team in Kamloops, British Columbia, but he received no offers from the majors.
With no career looming in baseball, Todd turned to his second love. He submitted his artwork to comic book editors across the U.S. and Canada, collecting over 700 rejection letters. Finally, in 1984, he received an offer from Marvel/Epic Comics where he worked up the artist ladder, eventually being assigned to write and draw Amazing Spider-Man. His redesigned creation sold more than 2.5 million copies in 1990, making it the best selling comic book of all time. Along the way, Todd became the industry's highest paid artist, making nearly $2 million a year.
Buoyed by success but unhappy with the lack of creative freedom in established publications, Todd formed Image Comics with other artists, where each artist would have complete control over his creation. In 1992, Todd published Spawn, which he had been working on for ten years. That issue became the biggest selling independent comic book publication, selling 1.7 million copies.
In 1994, he began producing action figures of his Spawn characters with his own company which became McFarlane Toys. Success with the his own characters eventually led to an array of other action figures from entertainment and sports including Shrek, X-Files, Austin Powers, Akira, Army of Darkness, Jaws, Rob Zombie, Alien, Predator, the Beatles, Metal Gear Solid, KISS, AC/DC, Janis Joplin, Jerry Garcia, Alice Cooper, and Kid Rock.
Todd teamed with New Line Cinema to bring Spawn to the big screen. The movie Spawn (1997) had it's world premier at his adopted hometown theater, the Ahwatukee AMC 24 at Ray Road and I-10.
In 1998, McFarlane bought a minority interest in the Edmonton Oilers NHL hockey club. Three years later, he co-designed the Oilers' third jersey, which became the biggest-selling third jersey in history.
Todd did not forsake his interest in baseball. In 1999, he purchased Mark McGwire's 70th home run baseball at auction for $2.7 million.
One character in the Spawn comics got Todd in serious trouble. When Todd created the mobster villain Antonio Twistelli, it was alleged that his inspiration was hockey player Tony Twist who was then with the Quebec Nordiques, and later played with the St. Louis Blues. Twist sued and in 2000 a jury in the St. Louis Circuit court where the suit had been filed awarded him more than $24 million for unauthorized use of his name. The judge set aside the award saying that the "verdicts in this case are against the manifest weight of the evidence." An appeal to the appellate court sided with the superhero, but that was not the end of the episode. The Missouri Supreme Court found that the use of Twist's name was driven more for money than artistic value, and ordered a new trial. In July 2004 a jury awarded Twist $15 million. Although Todd vowed to appeal the new judgment, his company Todd McFarlane Productions Inc. was forced to file Chapter 11 Bankruptcy. Todd's toy company was not a part of the bankruptcy, but it was listed as the production company's largest creditor. We will all have to wait for the next issue to see how the superhero emerges from this threat.
CD's and DVD's from amazon.com