Newton, Wayne
(Carson Wayne Newton, 1942.04.03- ) Singer.

Lived in Phoenix

Attended North Phoenix High School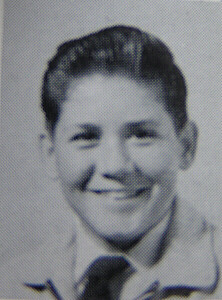 Wayne Newton's sophomore class picture in North Phoenix High School's 1958 annual, Hoof-Beats, p 68.

When Wayne Newton was born in 1942, his Irish-Powhatan father and German-Cherokee mother were living in Roanoke, Virginia, where his father made his living as an auto mechanic. At 4 years old, Wayne was picking out tunes by ear on the piano and guitar. By the age of 10, he was performing on a Roanoke radio station.
All was not well for Wayne in the humid Virginia air. He was diagnosed with severe bronchial asthma. In 1952 the family decided to move to Phoenix where it was expected that the climate would benefit the youngest Newton like it had many thousands of other Arizona emigrants.
Not long after the Newtons moved to their residence on East Brill Street in Phoenix, Wayne and his older brother, Jerry, were performing at local drug and grocery store openings.
In 1952 Phoenix had one television station: KPHO, channel 5. KPHO debuted in December 1949 and was without competition for two years and five months. Channel 5 had no network affiliation until 1994 although it broadcast various network shows until affiliate stations began broadcasting, and it relied heavily upon local programming. At its peak, Channel 5 had 30 local programs on the air.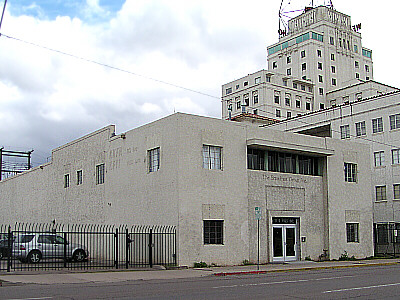 KPHO's first studios were at 631 N. First Avenue, adjacent to the Westward Ho Hotel. The station broadcast to the valley from a 40 foot antenna on a 240 foot steel tower on top of the hotel. In December 1971 the station moved to 4016 N. Black Canyon Highway. 2-03
One of those shows was Lew King's Rangers. The Rangers began in the late 1940's as a weekly music talent show at the downtown Fox Theater. It expanded to radio at one point being carried by 455 stations, and then to television on KPHO. Performers during the run of the show included Tanya Tucker, Marty Robbins, Lynda Carter, Duane Eddy, Linda Day George, Vonda Kay Van Dyke, and Rusty Draper. Phoenix lawyer Gary Peter Klahr was a juvenile MC at age 7.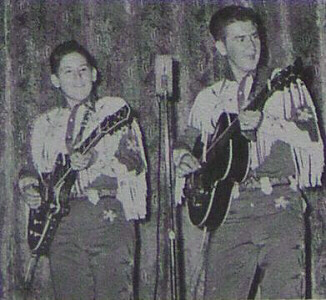 Wayne and Jerry Newton performed "Blackberry Boogie" at North Phoenix High School's Senior Talent Assembly. 1958 Hoof-Beats annual, p. 143.
The Newton brothers became regulars on Lew King's Rangers. In the spring of 1958, the boys were into their fourth year on the show when a Las Vegas talent agent spotted them. They were offered a two week engagement as a lounge act at the Freemont Casino.
Besides performing, sixteen year old Wayne had been active in his high school. He was Sophomore Class president of North Phoenix High, on the assembly committee as well as performing in the assembly, and in ROTC. He could not wait for graduation to devote full time to a show business career. Two weeks before the end of his Sophomore year, he announced to his parents that he was quitting school and heading for the Las Vegas neon.
The Newton Brothers arrived at the Freemont in July 1958 to begin a two week engagement. The two weeks were stretched again and again eventually turning into a five year gig. The boys did six shows a night, six nights a week.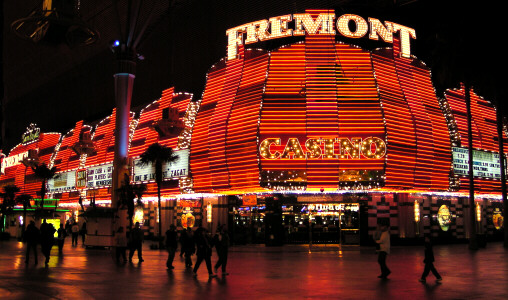 The Fremont Casino in Las Vegas where Wayne and Jerry Newton performed the lounge before they were old enough to walk through the casino. 01-03.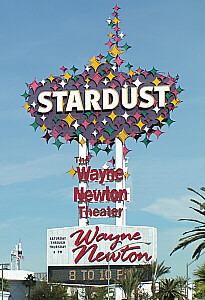 The Stardust is where Wayne Newton most recently made his home. 01-03.
In the summer of 1962, Jackie Gleason was headed through Phoenix on a train trip to promote his Jackie Gleason Show. The owner of the TV station where the Newton Boys had performed was looking for entertainment for "The Great One." He called Wayne asking him to entertain the guest at a luncheon. Wayne came to Phoenix and sang Danny Boy. At the end of the show, Gleason stood up and said, "You're on my first 5 shows."
The Newton Brothers made their debut on the September 29, 1962 broadcast of the Jackie Gleason Show. Jackie helped the boys secure a six month engagement at the Copa Cabana.
One evening Bobby Darin caught their act at the Copa. Darin wanted to branch into record production, and thought that a song written for him would be perfect for Wayne. In the spring of 1963, 21 year old Wayne recorded "Danke Schoen."