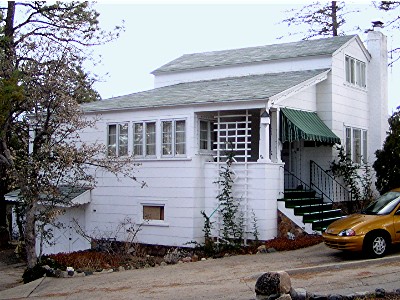 The Prescott house where the teenaged Richard Nixon spent two summers. 1-04.
Nixon, Richard M.
(Richard Milhous Nixon, 1913.01.09-1994.04.22) 37th President of the United States (1969-1974), Vice President (1953-1961).

Spent summers in Prescott
The only president to ever resign from office spent the summers of 1928 and 1929 at 937 W. Apache Drive in Prescott.

Richard's older brother, Harold Nixon, became ill with tuberculosis in 1927. When his condition worsened in the spring of 1928, his mother left her two younger children with their grocer father in Whittier, California and traveled 400 miles to Prescott where they rented the modest house.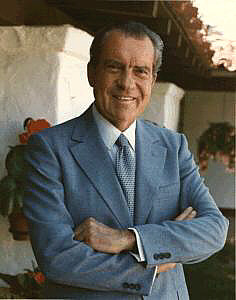 President Richard M. Nixon at the Western White House in 1972. The Nixon Project, Office of Presidential Libraries.
In the late 1920's, Prescott was a fashionable town of about 7,000 attracting more than its share of tourists. There were seventeen dude ranches in the area and Tom Mix made many movies in the nearby Granite Dells. Like many communities in Southern Arizona, a less publicized industry flourished--it was a haven for tubercular patients. Several sanatoriums were situated around Prescott, and those who could not afford formal treatment could find inexpensive rentals. Small signs around the town's central plaza discretely asked this portion of the community to "Please use cups."
Richard's father took him and his brother to visit their mother and older brother on school holidays and many weekends. Richard stayed on through the summers of 1928 and 1929 when he took a series of jobs. For a time he plucked and dressed chickens for a butcher. He was a pool boy and janitor at the Hassayampa Country Club. For two summers he was a barker at the popular "Wheel of Fortune" gaming booth at the Slippery Gulch carnival in July.
In spite of the family's devoted care, Harold Nixon succumbed to tuberculosis in 1933.