Rogers, Roy
(Leonard Franklin Slye, 1911.11.05-1998.07.06) Singing cowboy.

Owned Happy Trails resort in Surprise; sued Happy Trails head shop
Roy Rogers, the "King of the Cowboys," got his big break in 1938 when Republic Pictures' major star, Gene Autry, went on strike for more money. Roy, then a bit player, auditioned to replace Autry and got the part. Along with the part, he got the horse, Trigger, "Smartest Horse in the Movies." Nine years later, he also got the girl, when he married Dale Evans (1912-2001), "Queen of the West."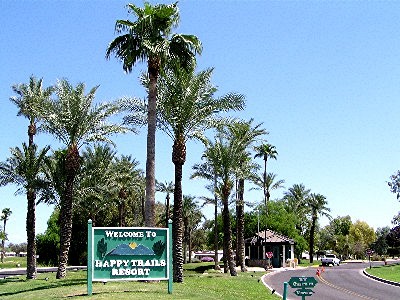 Roy Roger's Happy Trails Resort is at 17200 W. Bell Road, immediately west of the south entrance to the sprawling Sun City Grand. 8-03.

Roy was not only the King of the Cowboys, he was also the cleanest of the cowboys. On screen, he was always the good guy fighting for right and justice. Off screen, he enjoyed and cultivated an immaculate family image. When he made a guest appearance on Wonder Woman in 1977, he insisted that its star, Arizonan Lynda Carter, wear something less revealing than her ordinary brief attire. She did, sporting a sleeved red top and white chino pants for the episode.
In 1951, Dale wrote the song, "Happy Trails to You," which became the Rogers' theme. Roy used the name "Happy Trails" for many of his investments. Those investments always involved wholesome family activities--like eating (over 500 Happy Trails Restaurants) and camping, including his Happy Trails Recreational Vehicle Resort in Surprise.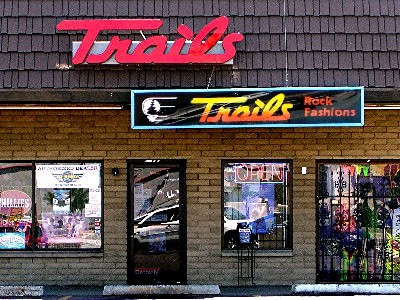 The Trails store closest to Happy Trails Resort is located at 3501 W. Bethany Home Road in Phoenix. The store caters to a significantly different market than the resort 8-03.
Imagine Roy's surprise when he discovered that in 1976 a local entrepreneur started using the name "Happy Trails" for his stores. Those stores sold pipes and other items looking suspiciously like drug paraphernalia. That was not the kind of mood alteration Dale had in mind when she wrote the song. Roy thought that the head shop was besmirching his clean cut cowboy image. Adding insult to injury, the shop used "Happy Trails" in its radio advertisement!
Roy rode into town with a posse of attorneys. They filed suit in the U.S. District Court in Phoenix. A settlement was reached in short order, and early in 1988 the not-so-family oriented store bore a new name, "Trails."