Shields, Robert
(1951.03.26- ) Mime, artist.

Lives in Sedona and Scottsdale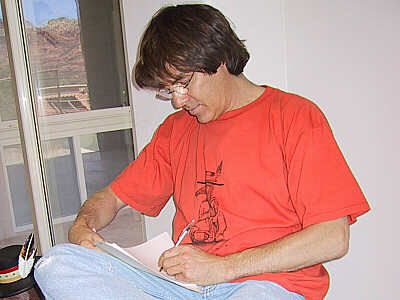 Robert Shields talked with visitors at the Sedona Home Show in June, 2002, demonstrated mime and made pen & ink drawings for them. 06-02.
Robert Shields was the quintessential street performer in 1970's San Francisco where he became the city's top tourist attraction while performing on his corner of Union Square. Teaming up with Lorene Yarnell, their mime act became a feature on The Sonny & Cher Show (1976-1977), followed by their own Shields & Yarnell show (1977-1978).

As of 2002, Robert Shields--the mime--had his own radio station, CAT, 100.1 FM, in Sedona where he had a home, along with five retail stores selling his art, and a restaurant, Trickster Cafe. He also had a home in Scottsdale and was planning the expansion of his gallery shops to Scottsdale and Chandler.
Robert Shields holds the distinction for being the only Arizona celebrity for whom we could find no birth date in any database.