Van Dyke, Dick
(Richard Wayne Van Dyke 1925.12.13- ) Actor.

Lived in Cave Creek

Treated in Phoenix
"The Dick Van Dyke Show" (1961-1966) was very possibly the best situation comedy that was ever broadcast. In 1971, Dick and the original show's creator, Carl Reiner, attempted to repeat their prior success with "The New Dick Van Dyke Show" (1971-1974). Dick played Dick Preston who was the host of a TV talk show in Phoenix, Arizona. Hope Lange was Dick's wife.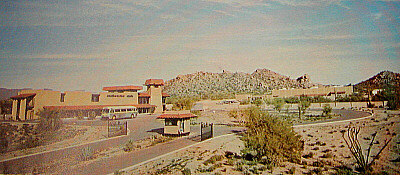 The Southwest Studios at 32233 N. Scottsdale Road, Carefree, are pictured above (offices at the left, sound stage at the back of the traffic circle), as they were when the New Dick Van Dyke show was filmed in early 70's. 9-02.

The first two seasons of the show were filmed at Southwest Studios in Carefree, near Dick's home. Although Dick was nominated for a Golden Globe for the show in 1972, it failed to attract the audience or critical acclaim of the original.
Dick checked himself into St. Lukes Medical Center in Phoenix for alcoholism in August, 1972. He was treated in a ward at his request rather than a private room. He took his last drink 3 years later. His wife checked herself in shortly after he did and later became a chemical abuse counselor at St. Lukes. In 1974, Dick received an Emmy nomination for his portrayal of an alcoholic in the TV movie "The Morning After."
Dick and Marjorie divorced in 1978. In the mid 1980's Dick moved in with Michelle Triola, who established the right of live-in companions to support in her famous "palimony" suit against actor Lee Marvin, who was destined to die in Tucson.