Warhol, Andy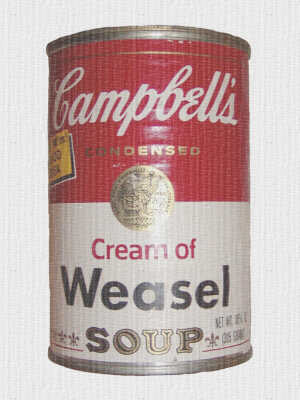 With apologies to Andy Warhol, this is our version of his famous Campbell's Soup Can art of the 1960's. 3-02.
(Andrew Warhola, 1928.08.06-1987.02.22) Artist, director.

Passed through Oracle
Andy Warhol was famous for avant-garde art--from Campbell's soup cans to Marilyn Monroe icons--but he also made incredibly unwatchable films, such as the 1963 cult "masterpieces," Eat (nearly an hour of a man eating a mushroom) and Sleep (8 hours of a man sleeping).
In 1968, Warhol brought his film company to Rancho Linda Guest Ranch in Oracle, Arizona, to film "Lonesome Cowboys." The FBI followed.

Investigating possible obscenity, the FBI compiled a report describing scenes from the movie. One scene had a large headed man saying that he enjoyed sex with horses more than with men or women. Another scene consisted of sex on horseback between a man and a woman.
Research for the report included interviews with teenagers that had managed to see the filming. One 15 year old boy talked freely about what he had seen, but only when the agent agreed to interview him outside of the presence of his mother who was unaware of her son's eavesdropping.
The film failed to earn either arrest warrants or academy awards. The effect upon the community of Oracle is up to speculation.