White, Danny
(1952- ) Football player, coach.

Lives in Gilbert

Graduate of Westwood High School and Arizona State University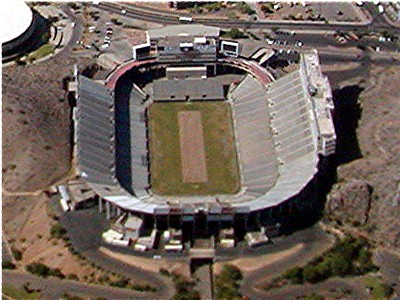 ASU built Sun Devil Stadium between two small mountains north of the campus in 1958 at a cost of $1,000,000. The football stadium, named after the school's mascot, had an original capacity of 30,000 fans. In 1976 the capacity was increased to 57,000, and in 1977 to over 70,000, which was the capacity at the time of the papal visit. Over 1,000 more seats were added before the Cardinals began playing in the stadium in 1988. The three story, 60,000 square foot building rising from the west side (right in the picture) of the stadium was added in 1989 to provide 38 private skyboxes, and a press box. The total seating capacity for football as the Cardinals were departing in 2003 was 73,521. 5-02.
Danny White, the Dallas Cowboy's quarterback from 1976 to 1988 who took them to three NFC East titles (1979, 1981, 1985) and into the playoffs five times, is a long time Arizona resident living in Gilbert.

Danny graduated from Westwood High School and followed his father, Wilford "Whizzer" White, to play football at ASU (1971-1973) and on to professional football. Danny was the third Sun Devil to have his football jersey number retired. His father was the first.
In 1991, he joined the new arena football franchise, the Arizona Rattlers, as their first and only head coach and general manager. In the team's third year, he lead them to a world arena football championship, repeating the feat in 1997.
Outstanding as a football player and coach, Danny was less successful with investments. In 1994 he filed Chapter 11 bankruptcy with about $50,000 in assets and $13 million debts.