Sheriff Joe aficionados lined up outside Play It Again Sports at 34th Street and Thomas Road, Phoenix to get their autographed bobble head doll. 11-01.
Arpaio, Sheriff Joe
(Joseph M. Arpaio, 1932- ) Maricopa County Sheriff.

Lives in Fountain Hills
Joseph Arpaio was elected sheriff of Maricopa County in 1992.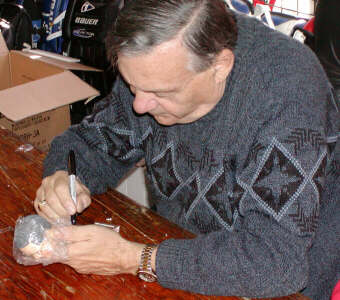 Sheriff Joe, out of uniform for the unofficial appearance, signs his bobble head look-alike. 11-01

Things haven't been the same in the county jail since. A champion of self promotion, the sheriff quickly became known as as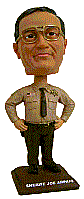 The Sheriff Joe bobble head doll.

"America's toughest sheriff."

The crowning achievement of the publicity machine came at the close of 2001. Imagine 5,000 Sheriff Joe look-alikes, heads a bobbing on mantles all across the valley. On December 15, the official Sheriff Joe Arpaio bobble head doll went on sale. The sheriff accommodated the throngs of doll collectors and autographed the purchases.
Some highlights of Sheriff Joe's tenure:
1993: On August 6, Sheriff Joe bans Playboy and other "sexually explicit materials" from the jails.
1993: Sheriff Joe places 1,200 men in Korean War surplus Army tents to save money and relieve jail overcrowding.
1995: To symbolize that he will always be room for more criminals, Sheriff Joe has a "vacancy" sign installed at the Maricopa County tent-city jail. When the sign is destroyed in a riot in November of the following year, the sheriff has a new sign installed.
1995: Tents to hold 200 women prisoners are installed.
1995: Pretrial detainee Jonathan D. Mauro sues the sheriff because he can't have his Playboy magazine.
1996: World's first female chain gang is instituted at Estrella Jail on September 19.
1996: Sheriff Joe appears nationally on Bill Maher's Politically Incorrect comedy/satire show, then on the Comedy Channel.

Sheriff Joe's female chain gang clean up the Warner-Elliott Loup in Ahwatukee. 7-03

1996: Sheriff Joe personally deputizes con man David Pecard. It soon appears that something is amiss when the new deputy promises to shorten a female inmate's sentence then fondles her in an empty office. Pecard is charged on 12 felony counts and faces a court-martial for deserting the United States army seven times under different identities.
1997: Sheriff Joe makes his second appearance on Bill Maher's Politically Incorrect, but this time to a larger audience since the show has moved to ABC.
1997: U.S. Justice Department sues Sheriff Joe alleging excessive use of force by guards. The sheriff settles the suit by promising to stop hog-tying inmates.
1998: Room for incarcerated teens are added in what Sheriff Joe calls his "pup tents."
1998: America's first full-time jail high school is instituted, with 30 of the jail's 250 teenage inmates attending.
1999: The U.S. Supreme Court sides with Sheriff Joe, saying that he can ban Playboy and other "sexually explicit materials" from the jail.
2001: Following the 9-11 terrorist attack, Sheriff Joe orders American flags painted in 2,000 cells. As of July, 2002, 151 inmates had been punished for defacing them.
2001 - December 15: Sheriff Joe bobble head dolls go on sale, just in time for the Christmas rush.
2004 - July 1 to 11: Country singer and longtime Phoenix resident Glenn Campbell serves 10 days in Sheriff Joe's jail...sort of. Campbell received national attention when he was arrested for DUI on November 24, 2003 after causing a minor traffic accident and leaving the scene. He had a 0.20 blood-alcohol level when he was arrested, far above Arizona's legal limit of 0.08. The Phoenix New Times reported that rather than placing Campbell behind bars or in tent city, Sheriff Joe put him up in the Mesa Hilton for the period of his sentence. Before his release, Campbell gave a free 30 minute concert for about 1,000 inmates at Joe's tent city jail.
2004 - July: Maricopa County prosecutors announce that they will not prosecute 60 suspected prostitutes and their tricks arrested by some 400 sheriff's deputies in a 2 month sting operation in late 2003. The problem with the arrests was that the undercover deputies removed their clothing and engage in sex acts on videotape. An expert on the subject of prostitution arrests explained that if the officers that go that far to get the arrest, they have engaged in prostitution and have themselves committed a crime. TV stations could not wait to get the videos on the evening news.

On a happier occasion Sheriff Joe's SWAT tank escorted Diamondback players in the parade celebrating their 2001 World Series victory over the New York Yankees. 11-01

2004 - July 23: In executing a misdemeanor arrest warrant on 26 year old Eric Kush for failure to appear in Tempe Traffic Court, Sheriff Arpaio's SWAT team burned down a $250,000 home and crushed a 2001 Mitsubishi Mirage with their SWAT tank. The Sheriff's SWAT team interrupted a quiet summer morning in the gated Fairway Hills community in the Ahwatukee Foothills when they surrounded the rented house in the 16800 block of South Cyan Court which Kush shared with three other residents. The Sheriff's arsenal included a SWAT tank which prior to that occasion had received its heaviest use promoting the department in valley parades. Shortly after noon, the SWAT team entered the home and escorted a young woman and a child from the property, but Kush barricaded himself on the second floor. Deputies launched gas canisters filling the home with a white gas, but Kush remained in hiding. As the white gas turned to black smoke deputies discovered that the second floor was on fire. They warned Kush who then surrendered as the home was engulfed in flames. Fearing that their armed SWAT tank might become a casualty of the fire, deputies moved the vehicle to safety, parking it on an incline. Unfortunately, the tank's electric brakes disengaged when the engine was turned off allowing it to roll into and almost over the much smaller Mitsubishi Mirage. The Mirage was crushed. The $250,000 home was declared a total loss. Kush posted a $1,000 bond and was released from jail the next day.