Campbell, Glen
(1936.04.22- ) Musician, singer, actor.

Lives in Phoenix and has a home in Flagstaff
By the time Glenn Campbell got to Phoenix, he was an established recording star (By the Time I Get to Phoenix, 1967; Gentle on My Mind, 1967; Wichita Lineman, 1968; Galveston, 1969; Rhinestone Cowboy, 1975), a veteran television star (The Glen Campbell Goodtime Hour, 1969-1972; The Glen Campbell Music Show, 1982-1983), a co-star with sometime Arizona resident John Wayne in True Grit (1969), and a star in a less than memorable movie (Norwood, 1970).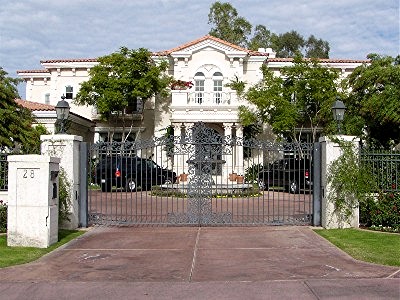 Glen Campbell's home on the golf course at the Biltmore Estates where he resided from 1996 to 2005. 11-03

He also had, according to People magazine, "descended into a hedonistic world of whiskey, cocaine and women." He had an affair with and later married singer Mac Davis' wife, Sarah. When he was in his mid 40's he met the 21 year old Tanya Tucker. They shared a year long volatile, cocaine-enriched affair.
Salvation came in the form of a Radio City Music Hall dancer he met on a blind date in 1981. He married Kimberly Woollen the next year. In a remarkable evolution during the 90's--sparked by an ultimatum from Kimberly--Campbell reportedly gave up drugs and booze. He was more likely to be sniffing the fresh desert air on the golf course with friends like Alice Cooper than snorting white powder.
In 1996, Glen built a 8,300 square foot home on the golf course in the Biltmore Estates community, where he was living with Kimberly as of 2003. In 2005, he sold the Biltmore Estate home for $6,475.000. He also owns a home in the tony Forest Highlands golfing development just outside Flagstaff.